On December 2, 2017, Denver activist group Resist 5280 held a March Against White Supremacy. 2017 has been a banner year for hatecrimes, which isn't surprising given the current political environment. One would think a march against white supremacy wouldn't be that controversial of an event. One would be wrong.
The Denver event brought out a contingent of counter protesters. In the same way that being "anti-anti-fascist" just makes someone pro-fascist, protesting a march against white supremacy just makes them pro-white supremacy. Which isn't surprising given the counter-protesters.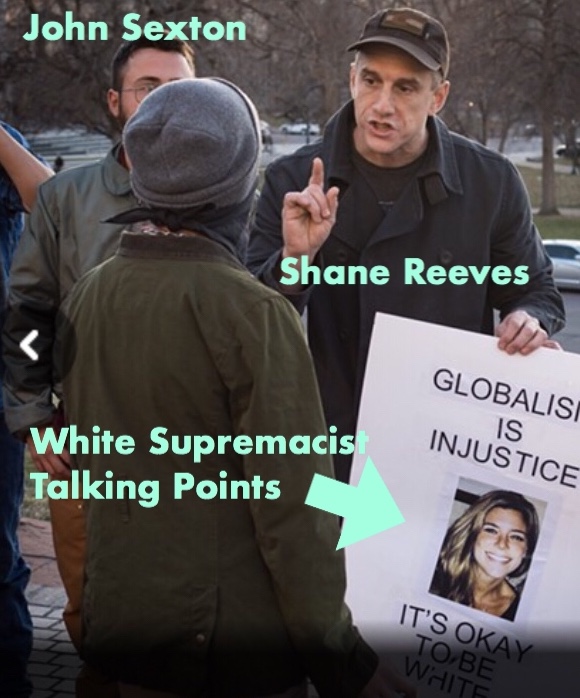 Shane Reeves, pictured here condescendingly arguing with an activist, showed up with a doozy of a sign that we'll do our best to unpack for everyone. The top text, "Globalism is Injustice" is the kind of slogan you would expect from someone who stopped intellectually developing in 3rd grade and has spent the last 5 years binge-watching Alex Jones clips. The concern from reactionaries about "globalism" is rooted in a variety of white supremacist conspiracy theories, but the gist is that the secret cabal of evil Jews who run everything are pushing multiculturalism and globalism in an effort to flood white, Western nations with masses of inferior "others" in order to destabilize those nations and essentially destroy Western Civilization (even though Friedman economics are doing a good enough job of that on their own).
Underneath that is a picture of Kate Steinle, whose accidental death has been politicized by Nazis like Richard Spencer.
Underneath Steinle's photo is the caption "It's Okay to be White," which in addition to being an entirely uncontested statement by anyone, ever, is also part of a national white supremacist campaign which seeks to somehow prove that white people are the real victims. This campaign has been endorsed by Nazis like Andrew Anglin and the deranged, white genocide-believing convicted felon Kyle "Based Stickman" Chapman.
Earlier this summer Reeves went to Charlottesville, where in addition to being complicit in the murder of Heather Heyer he hung out with a high-profile member of the militant Proud Boys off-shoot, Fraternal Order of the Alt-Knights (FOAK), Augustus Invictus.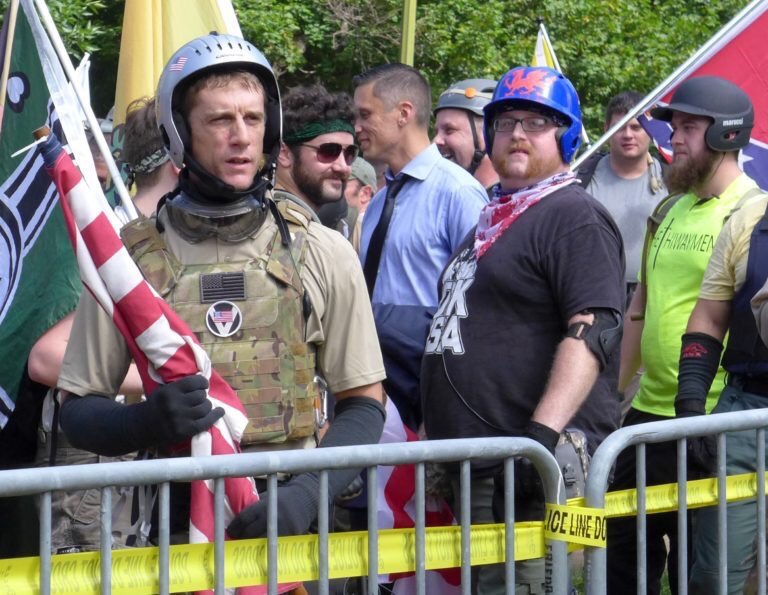 August Invictus is exactly the kind of human garbage (he is a goat-murderingrapist) you would expect someone like Reeves to hang around.
Joining Reeves in counter-protesting an event opposed to white supremacy is our favorite Keystone Cops, the Colorado Springs Proud Boys. The Springs chapter of the Proud Boys have a lengthy history of making asses of themselves and of attempting to disrupt events held by people of color.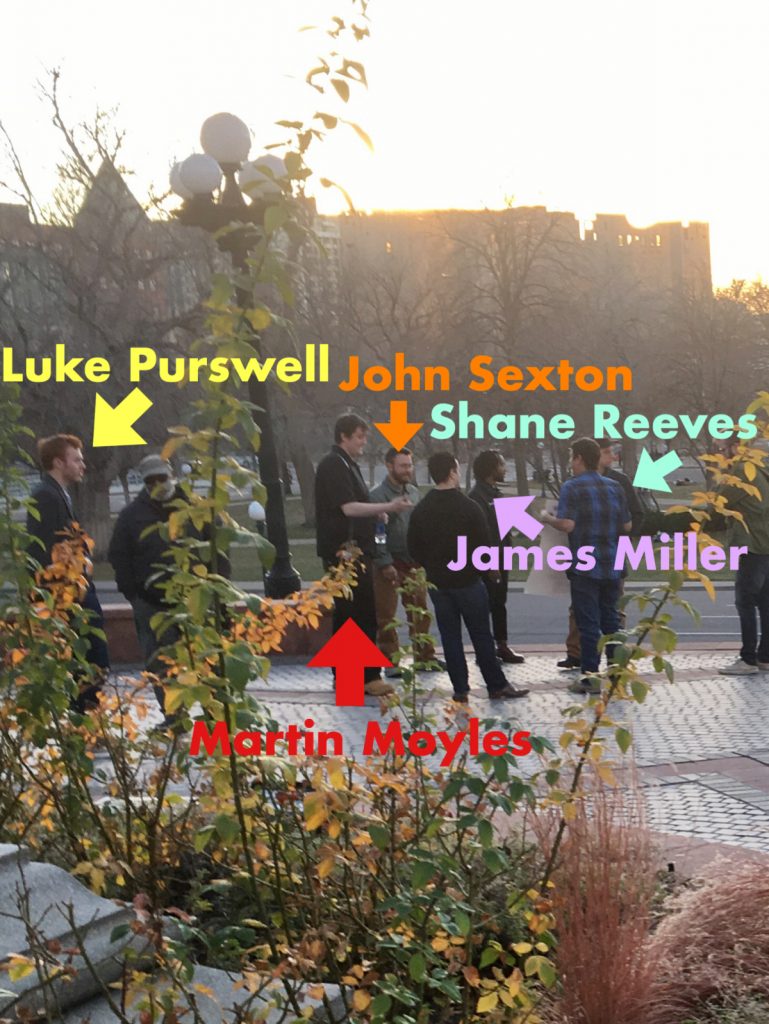 John Sexton is a sterling example of the master race and is a big fan of white supremacist movements.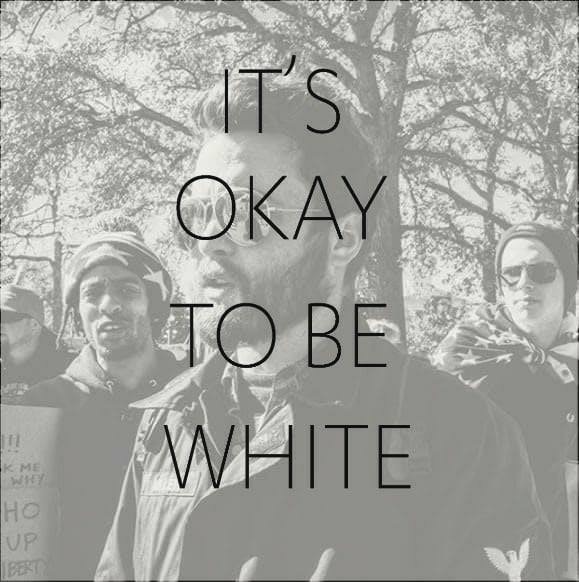 The Blaster to Sexton's Master, the walking pile of congealed mayonnaise that is Martin Moyles, was also in attendance.
We also saw Luke Purswell, who is best known for posing with the totally-not-ridiculous shields he made during their abortive attempt at a free speech rally last summer. Purswell seems to be hanging out with the College Republicans of UCCS, a Turning Point USA puppet organization responsible for bringing virulently anti-LGBTQ speakers like Milo Yiannopoulos and Paul Cameron to Colorado Springs.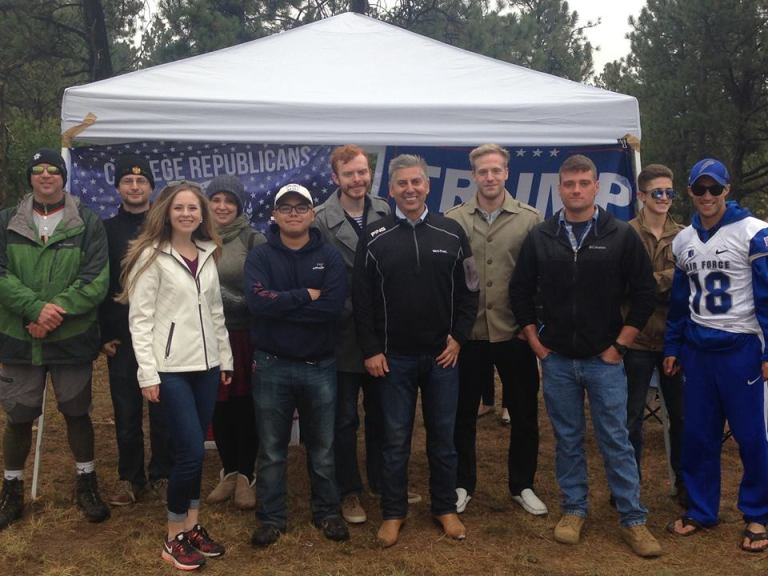 Also in attendance and apparently oblivious to the barely-concealed dog whistles was James Miller.
We're not sure what more needs to be said about the Colorado Springs Proud Boys, who are pretty clearly racist pieces of shit. They're litigious racist pieces of shit, too, whose lawyer (who is also a racist piece of shit) will probably send us another "cease and desist" email, since he can't make threats against us on Twitter.
Since the March Against White Supremacy, organizer Tay Anderson, who also spoke out against Denver's Ink! Coffee, has received death threats.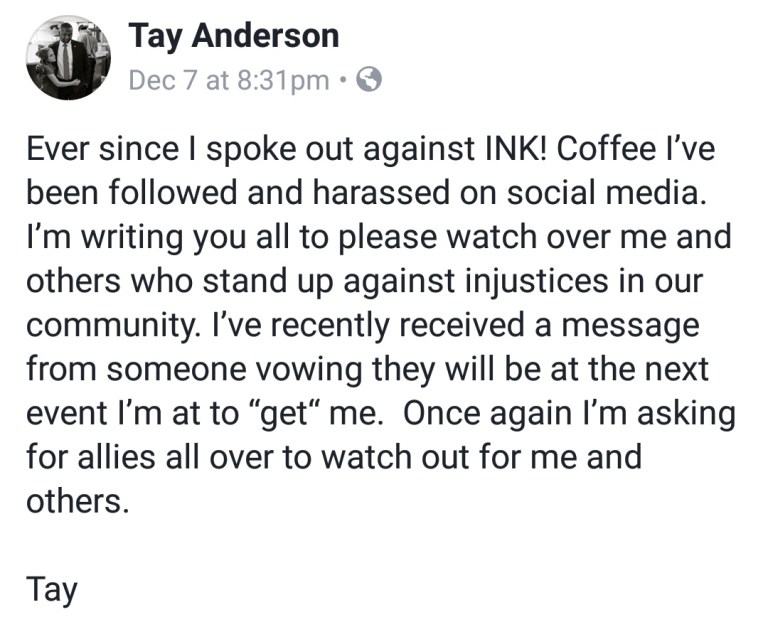 The Proud Boys are a garbage organization of garbage human beings who associate with known racists and fascists. Fuck those cowards.