Andrew Brewer is an 18-year-old fascist Junior Reserve Officers' Training Corps cadet at Hohenfels Middle/High School and an incoming freshman at George Mason University in Fairfax, Virginia. Andrew attempted to the join the white supremacist hate group Patriot Front three separate times before his 18th birthday. He regularly describes himself as a fascist, and makes hateful comments about LGBTQIA+, Jews, and minorities on internet forums such as Reddit and Quora.
Additional information about Andrew Brewer can be found here.
UPDATE:
6/22/2020
George Mason University has rescinded Andrew Brewer's Admission due to pressure from George Mason students. George Mason students collected nearly 7,000 signatures demanding the school revoke Andrew's admission.

---
Andrew Brewer attempted to join the SPLC-designated hate group Patriot Front in March of 2020, but he inadvertently gave his information to an anti-fascist honeypot instead.
Patriot Front (PF) is a youth-oriented white supremacist organization founded after the deadly 2017 "Unite The Right" white nationalist rally. In the aftermath of the event, Patriot Front split from Vanguard America, who are responsible for the murder of Heather Heyer. PF advocates for the ethnic cleansing of the United States in order to make it a "homeland" for white people.
Reaching into A Honeypot
Andrew made his third attempt at joining Patriot Front via a Twitter DM on March 27th, 2020 from his account @andrewbrewer917, this time though, he wasn't talking to PF.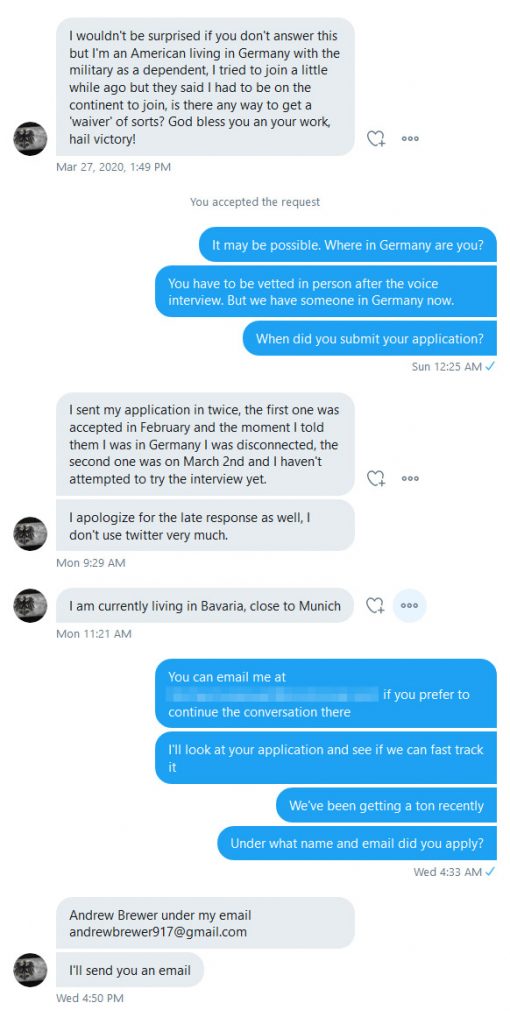 Andrew then participated in a phone interview about his membership in what he thought was Patriot Front.
Andrew Brewer's Introduction
Andrew on why he wants to join Patriot Front
The exchange between Andrew and someone he thought was a member of Patriot Front's leadership continues via email: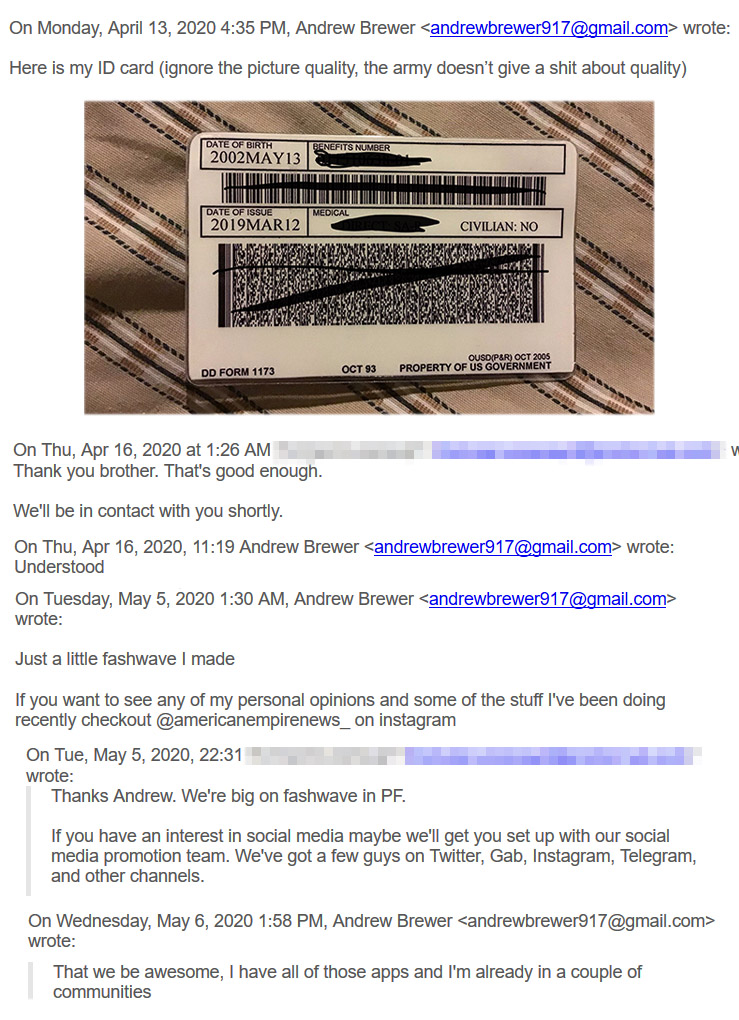 In the interview, Andrew describes himself as a "paleoconservative/neo-Fascist," because "neo-Nazi" is a little too on the nose.
Question: How would you define yourself politically?
He calls for a near-complete closing of borders in Europe because he's upset there are Africans in London and Paris.
Question: What do you think about what's happening in Europe and the US in regards to migration?
Question: Tell me about England and France.
Andrew likely reached out to Patriot Front because he couldn't find any serious Nazis locally.
Question: Since you've been living in Germany, have you met any other people with similar beliefs to you?
Digital OpSec 101
Andrew uses the same username across all of his social media, from Facebook to Stormfront.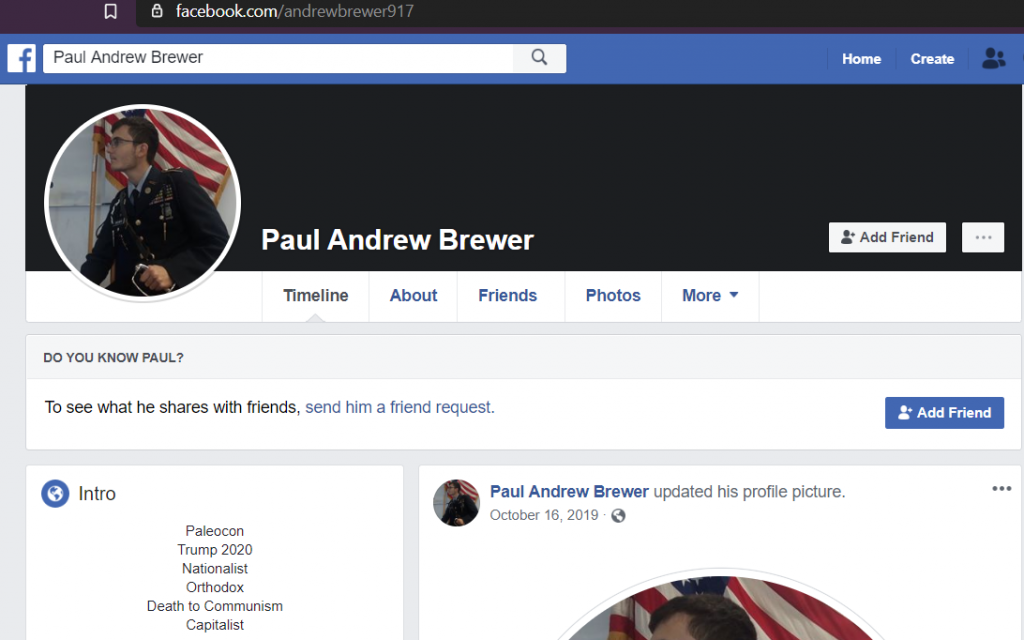 An older version of Andrew's Facebook shows that he attends Hofenfels Middle/High School, which is a US Army JROTC school in Hohenfels, Germany.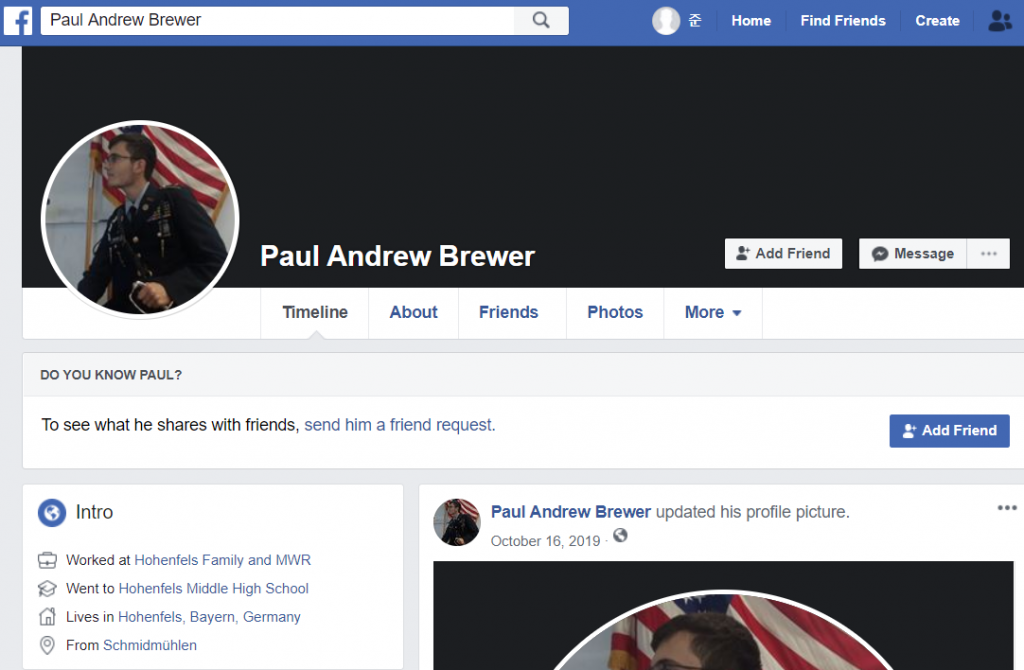 It should be no surprise at this point that a lot of neo-Nazis like Donald Trump, and indeed, here's Andrew describing his support for the President.
Question: What Are Your Thoughts On Donald Trump?
Interestingly, when asked about Israel, Andrew gives a very tepid response, but shows an eagerness to become further indoctrinated into antisemitism by Patriot Front.
Question: What Are Your Thoughts on Israel?
Rommel's Long Lost Cousin
On the Amino app, Andrew created a fictional anime Nazi tank formation based around Hohenfels Middle/High School under the alias "Rommel's long lost cousin."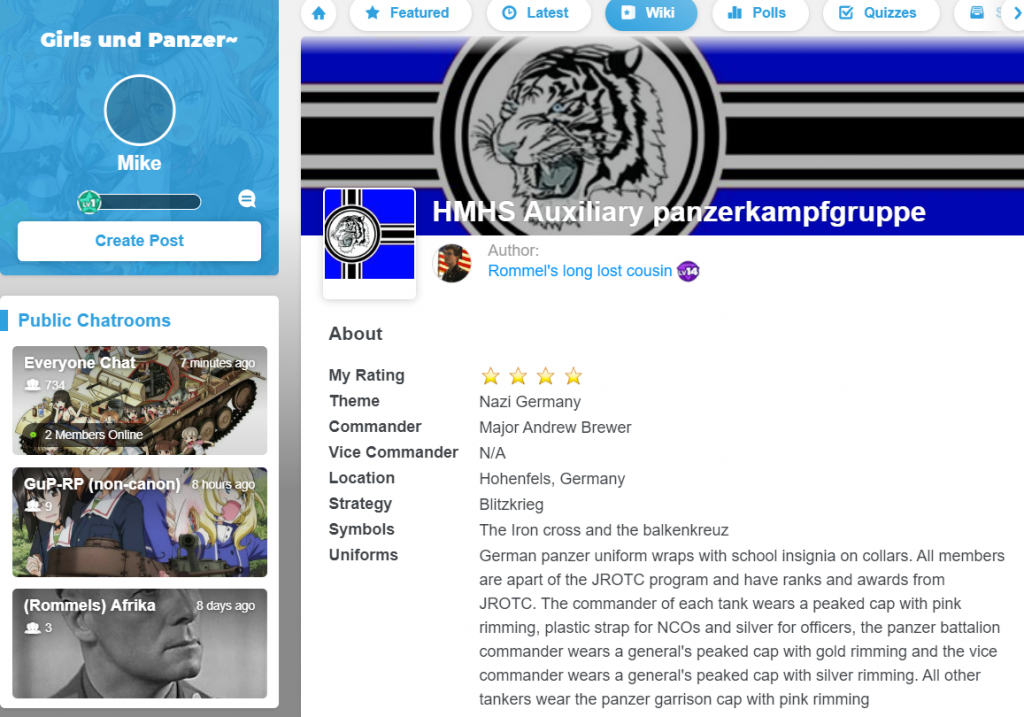 The flag for Andrew's group is a combination of the Nazi War Ensign and the Hohenfels Middle/High School logo.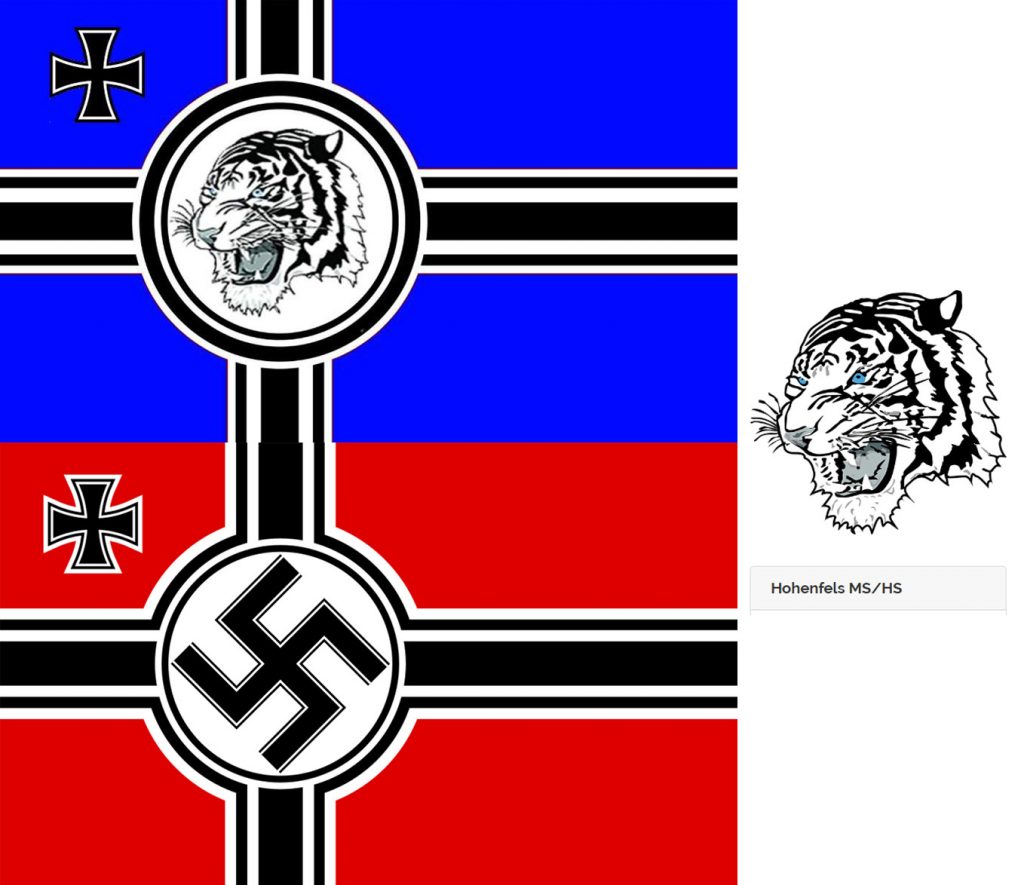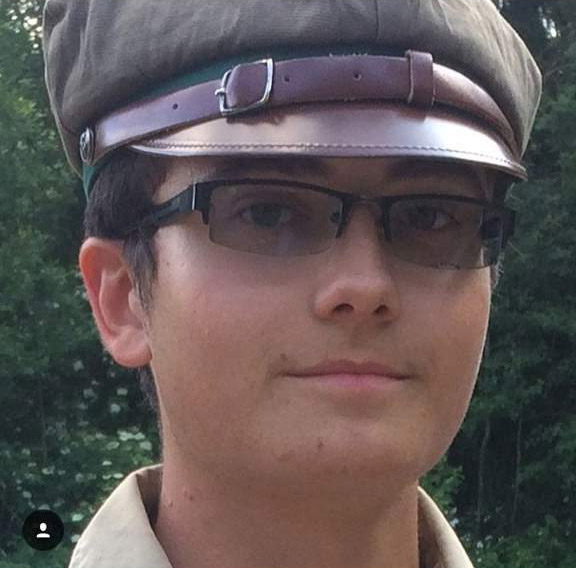 Andrew also posted a fawning memorial to Nazi general Erwin Rommel on his anime fan site.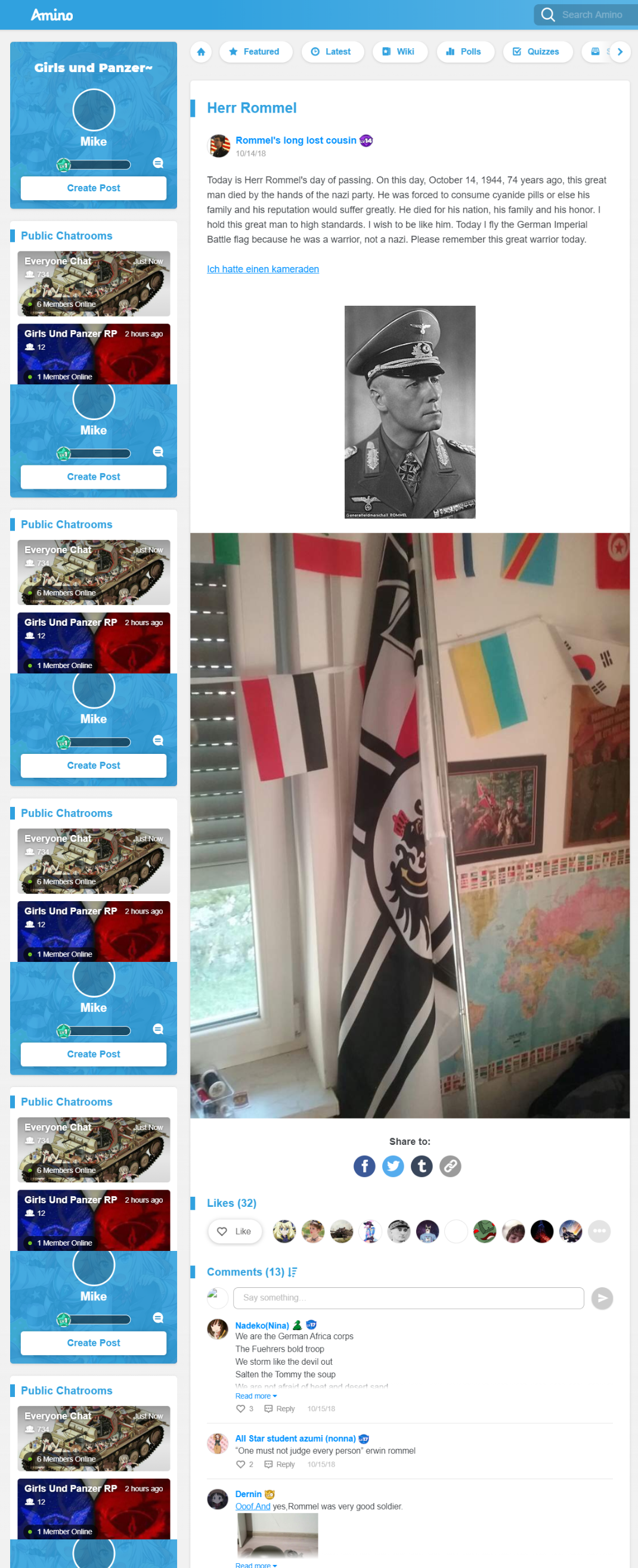 The flag Andrew is flying is the German Imperial War Ensign. Andrew shared another picture of this flag on his Reddit account, next to some Patriot Front stickers, a fedora, and a swastika.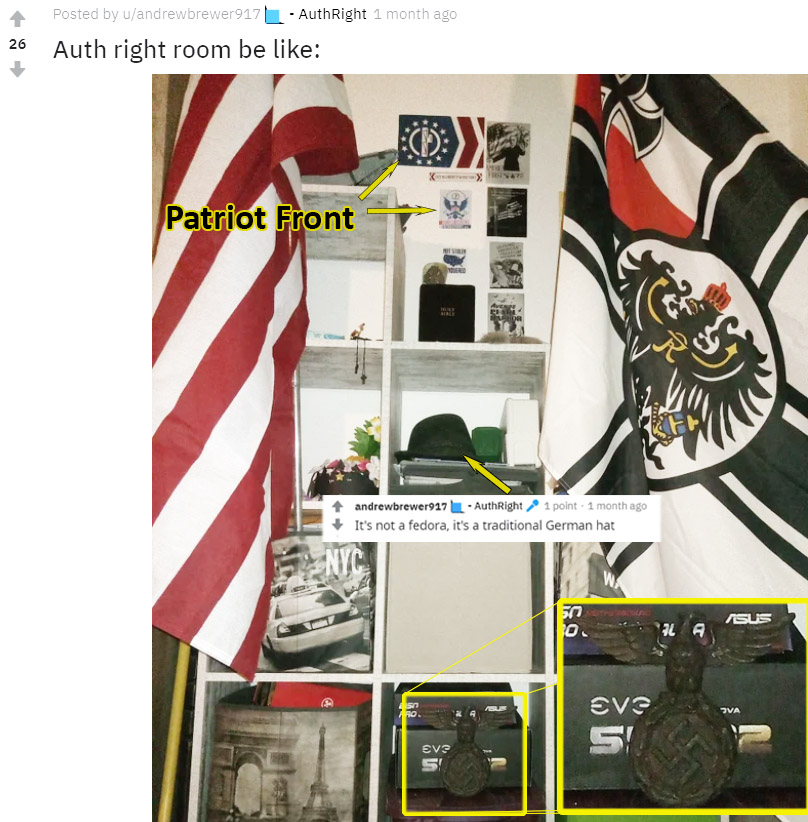 Andrew lamented that sharing photographs of swastikas is illegal under German law in his Patriot Front interview.
Question: What Are The Laws Around Fascism in Germany?
Andrew also uses Reddit to view porn, and to express how ashamed he is about viewing said porn.


Andrew also uses Reddit to proudly share his 8Values political assessment.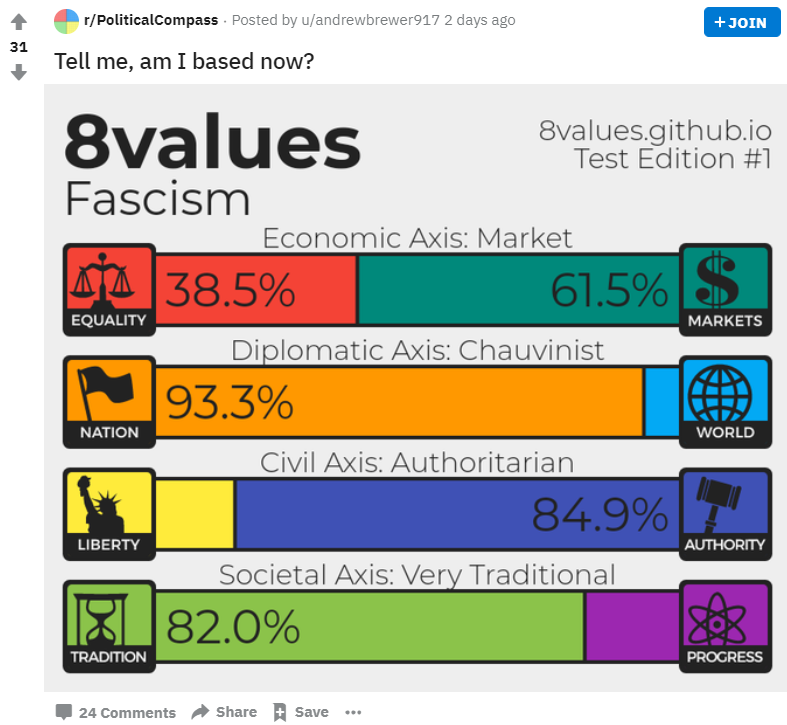 And of course to post miscellaneous Nazi bullshit.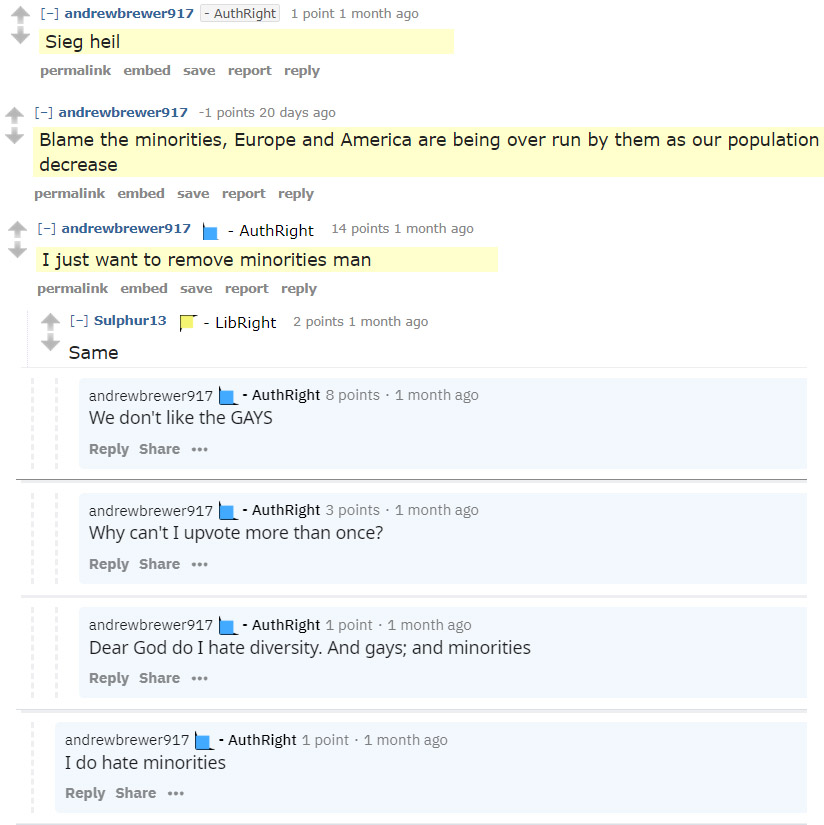 You can see a full archive of Andrew's Reddit posts, including his birthday wish to Adolf Hitler, here.
Speaking of Hitler, Andrew said he was reading Mein Kampf in his interview when asked if he had read any of Italian fascist Julius Evola's writings.
Question: Have you read any Julius Evola?
Andrew joined the neo-Nazi website Stormfront last month under his real name.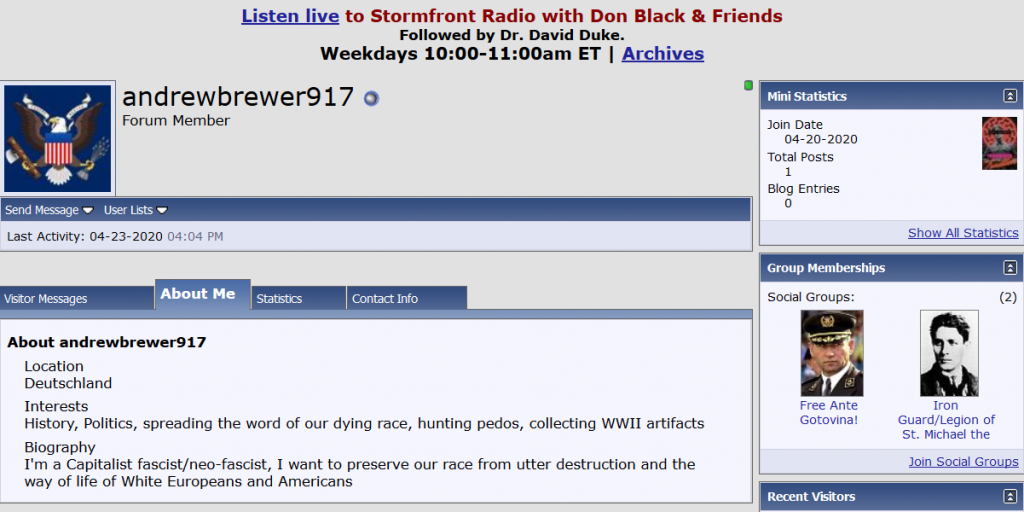 Action Items
Andrew discusses college
UPDATE
Andrew was rejected from George Mason University after students pressured George Mason into revoking his admission.
Andrew has been accepted into George Mason University in Fairfax, Virginia. You can can contact administration at George Mason and let them know that one of their incoming freshmen is a neo-Nazi:
(703) 993-2470  |  masoncn@gmu.edu
E-mail: admissions@gmu.edu
Phone: 703-993-2400
You can also contact the principal of Andrew's JRTOC High School here:
HohenfelsMHS.Principal@eu.dodea.edu
Andrew says he will get kicked out of ROTC if he is found out to be a Nazi…
Bonus Cringe:
Here's Andrew claiming he can feel a connection with Corneliu Zelea Codreanu, the founder of the fascist Romanian Iron Guard