Jeanna Christine Hoch (fka Jeanna Grasso) is a 40 year old anti-feminist gender reactionary (aka TERF) who pepper sprayed children at an anti-transgender rally she traveled to in Tacoma, WA on October 27, 2022. Jeanna is the owner of CannaMama Clinic, an advocacy group that promotes marijuana use during pregnancy.
Jeanna Hoch lives in Denver, CO. You can find her address here.
Anti-transgender activist Jeanna Hoch made news in late October, 2022 after she traveled to the Pacific Northwest to harass trans people in Portland, OR and Tacoma, WA, as part of the disastrous "Let Women Speak" US tour.
In Portland, Jeanna and her out-of-town TERF crew were met with comical resistance by local feminists.
Today brave TERFs journeyed deep into the smoking remains of Portland despite the thousands of antifa supersoldiers roaming the streets, and in a shocking act of "male violence" (thanks for gendering all the trans men correctly!), were tragically murdered by some pies. 🫡😭🫡 pic.twitter.com/0AJaC2PkHK

— Sophie May 🏴 🚀 💣 (@SophieAgoraMay) October 25, 2022
And in Tacoma, local high schoolers ran the bigots out of town…
Looks like high school kids in working-class town of #Tacoma shut down anti-trans rally. "Deep Green Resistance" leader Lierre Keith was in attendance. A month ago Keith appeared on show alongside Keith Preston, a white nationalist who speaks at conferences with Richard Spencer. pic.twitter.com/S3vTe5wmjF

— It's Going Down (@IGD_News) October 26, 2022
but not before Jeanna had time to pepper spray them:
"Tacoma showed up," said one counter-protester after out of town anti-trans protesters came for a rally and ended up pepper spraying the crowd. https://t.co/tHxlODubAy

— Craig Sailor (@crsailor) October 26, 2022
One of Jeanna Hoch's attacks in Tacoma, WA
Jeanna took to Twitter to brag about her attacks and suggested she would have also stabbed the Tacoma high schoolers as well: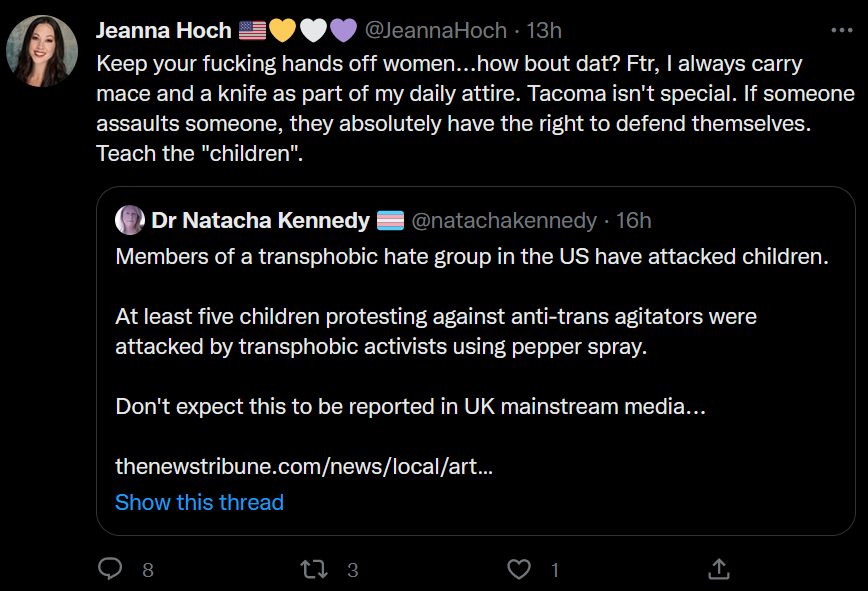 One of Jeanna's victims took to social media to describe what happened. We have blocked out parts of their post to protect their privacy.

Other Bigoted Behavior…
Pseudoscience
Jeanna runs CannaMama Clinic which promotes prenatal marijuana use. We are no experts on the science, Jeanna seems to disregard it completely, while also engaging in anti-vax COVID denialism.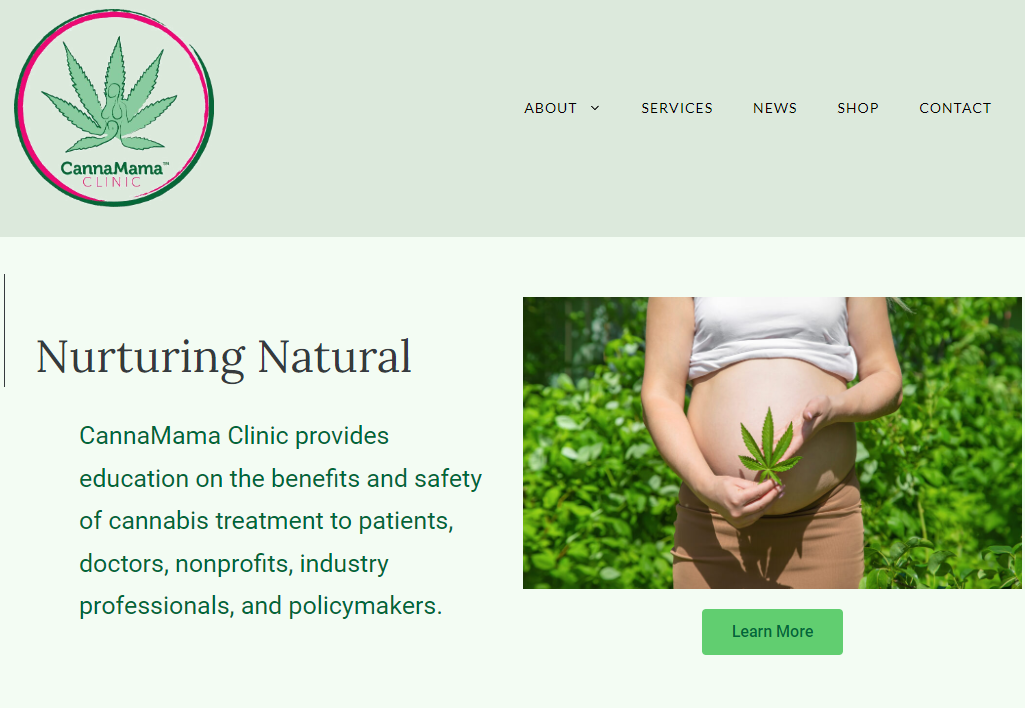 In one post on the CannaMama Facebook page, Jeanna disregards a peer-reviewed study on the effects of prenatal marijuana use from the "largest long-term study of brain development and health in children and teens in the United States" out of hand, because the findings conflicts with her beliefs.

Jeanna took her kids out of Denver Public Schools so they wouldn't have to wear masks, and has been kicked out of establishments for refusing to mask herself.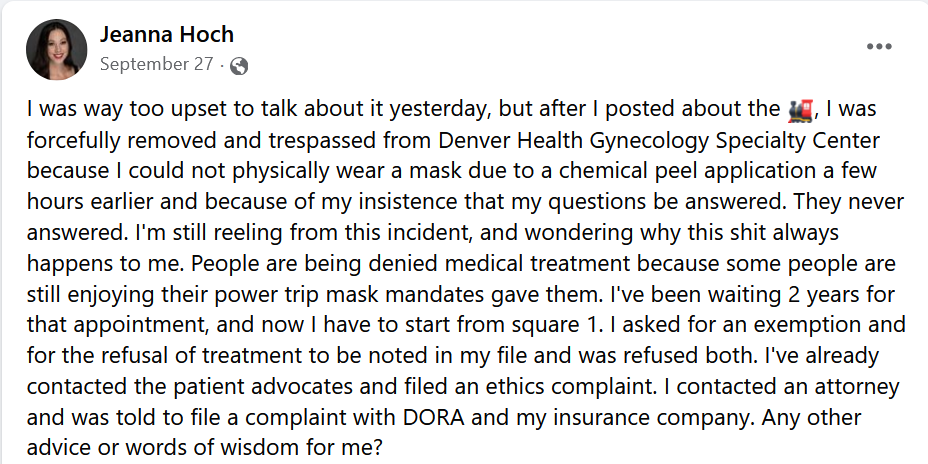 Racism
Jeanna has made several racist posts on her very public social media platform. Here Jeanna mocks the idea of Black identity to dunk on trans people (and Black people):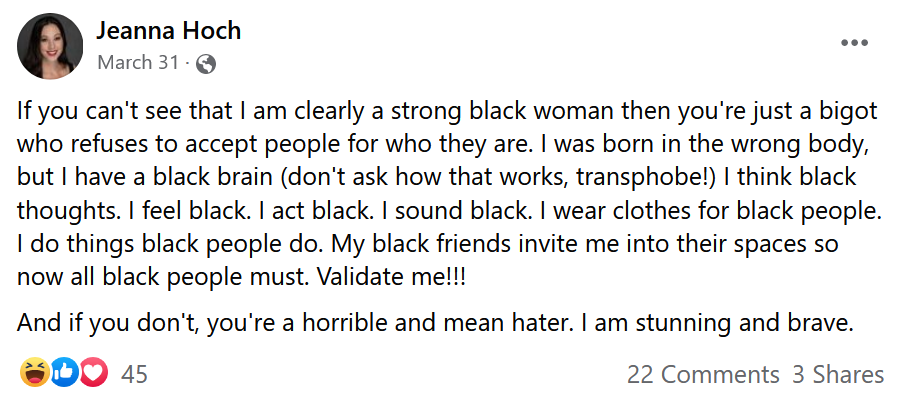 Jeanna has a little back and forth with her TERF friend Beth Ell that little a racism is okay, so long as it advances their "gender critical" (read: transphobic) cause.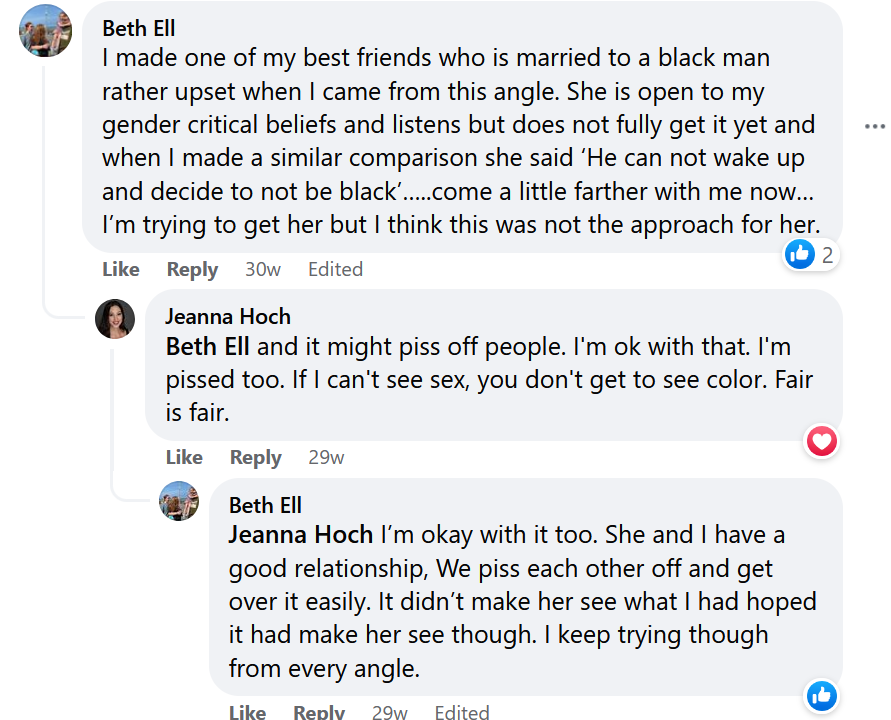 Like many of her Republican colleagues, Jeanna promotes the white supremacist talking point of "anti-white racism"

Support for Far-Right, Anti-Feminist Causes
Jeanna is an active Republican Party member, and served as a Colorado GOP delegate.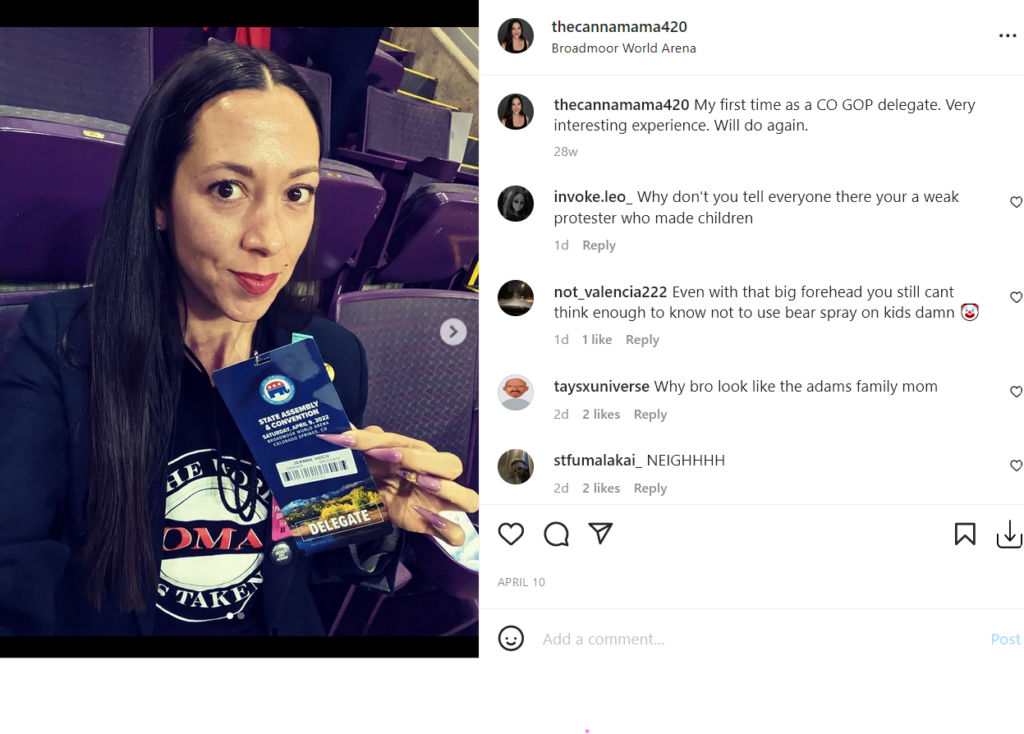 While proudly proclaiming to be a feminist, Jeanna is a supporter of serial predator, anti-abortion politician Donald Trump.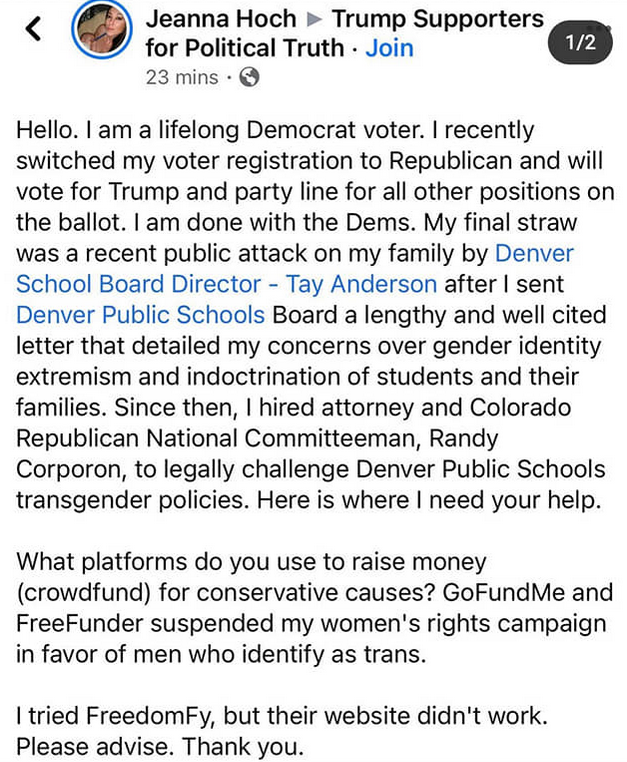 Jeanna also argues that supporting Republicans is somehow anti-racist because *checks notes* they hate trans people.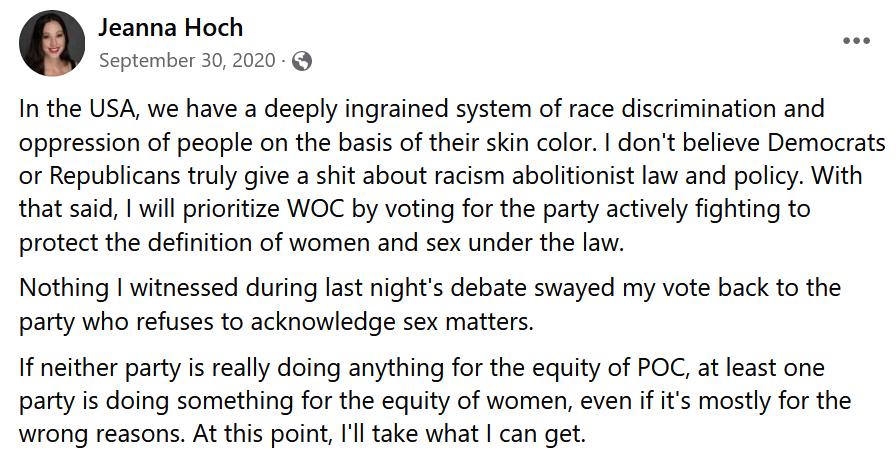 Jeanna Hoch also supports Kyle Rittenhouse, the right-winger who shot up a Black Lives Matter protest in Kenosha, Wisconsin.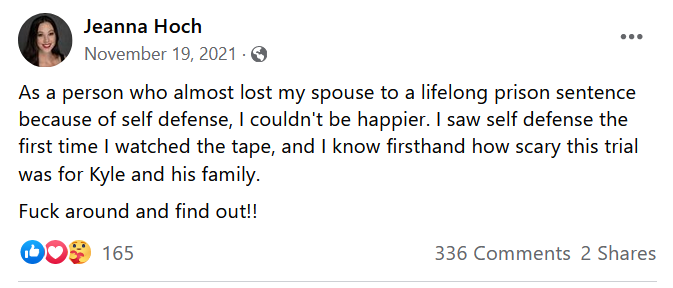 Other Activism
Jeanna has traveled around the country trying to get rid of trans and gender non-conforming people. Here are a few other actions she participated in:
Women Picket – D.C.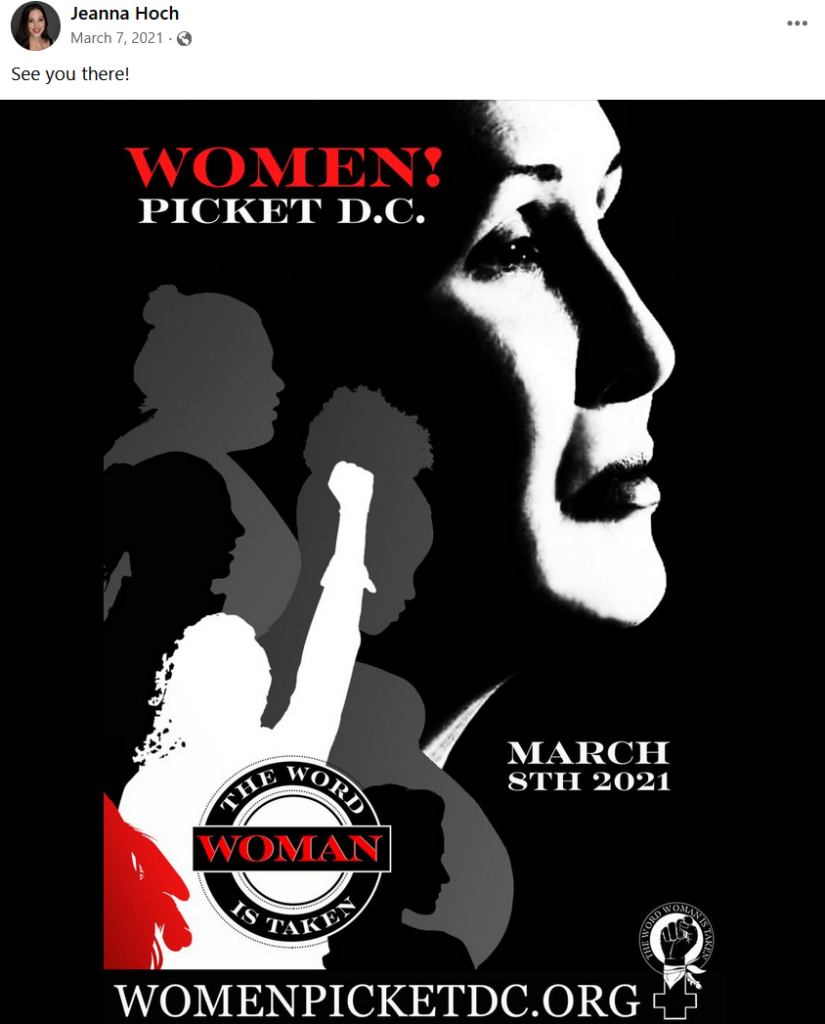 Protesting Lia Thomas – Atlanta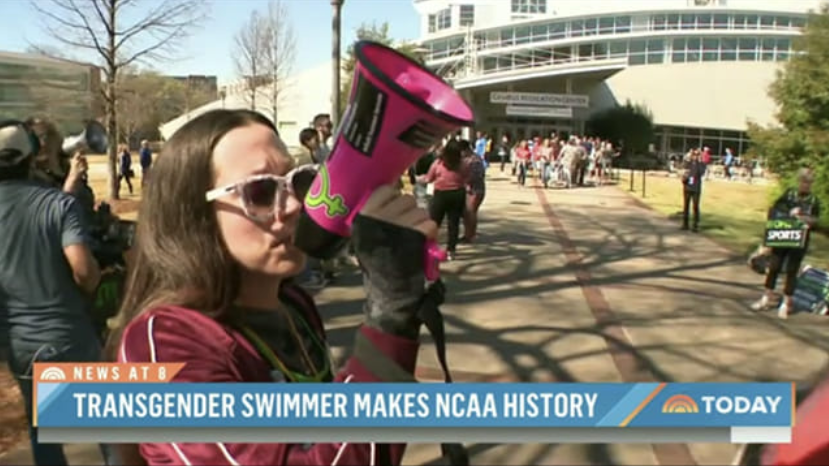 Anti-Trans protest @ Twitter and Facebook – Boulder/Denver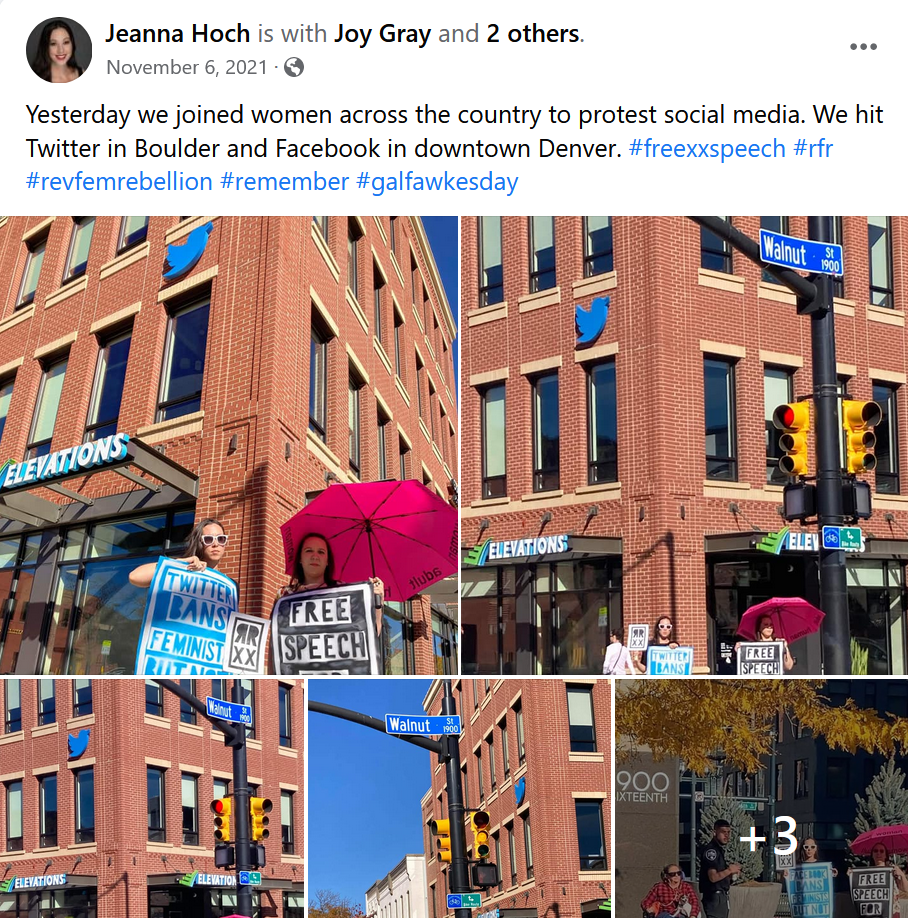 Background on the Movement
Jeanna's support for far-right, anti-feminist groups and politicians is not unique. Many of the "gender critical" organizations she openly supports and collaborate with do the same.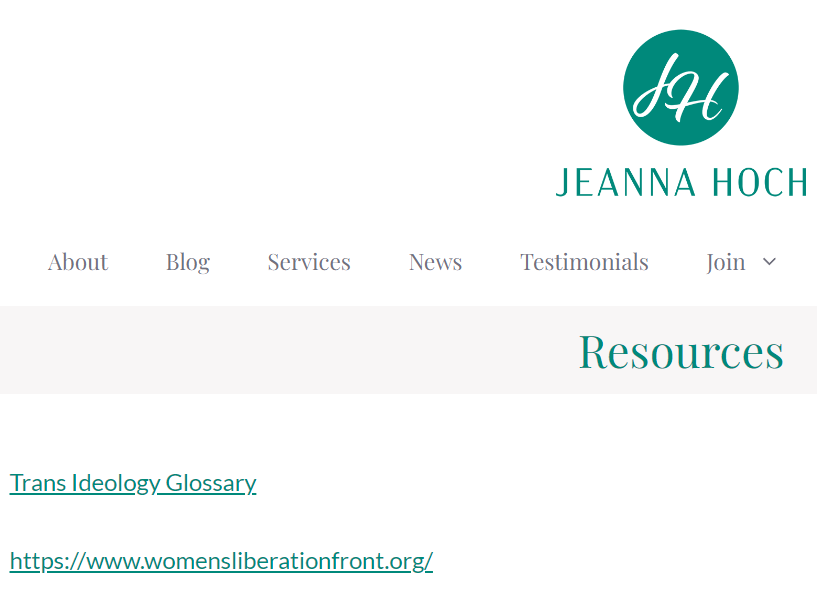 Women's Liberation Front (WoLF), an anti-trans "radical feminist" hate group has collaborated with Family Policy Alliance (fka Focus on the Family Action) in 2017. Family Policy Alliance is a conservative Christian lobbying group that opposes abortion and gay rights. Other conservative, anti-abortion groups WoLF has collaborated with include The Heritage Foundation, the Family Research Council, and the Alliance Defending Freedom.
TERFs are more than happy to throw away their own bodily autonomy by supporting anti-feminist, anti-abortion political struggles in order punish trans people. They are not feminists by any definition.
For further reading on the convergence between anti-feminist gender-reactionaries and the far-right, please read: