Lucas James Martin is a neo-Nazi living in Lone Tree, CO. Born in 1993, he is either 25 or 26 years old, and for the past seven years, has worked as a barista at the nearby King Soopers Starbucks on Holly St. in Centennial. Lucas is affiliated with the former Traditionalist Workers Party (now known as Black Shirts for Social Credit) as well as the Goyim Defense League.
Additional information about Lucas James Martin can be found here
UPDATE 2:
5/27/2021
Lucas Martin has not participated in any Goyim Defense League organizing in some time and we believe it is safe to conclude who no longer collaborates with them. Instead, he has furthered his involvement with the United Skinhead Nation, and apparently aged 10 years.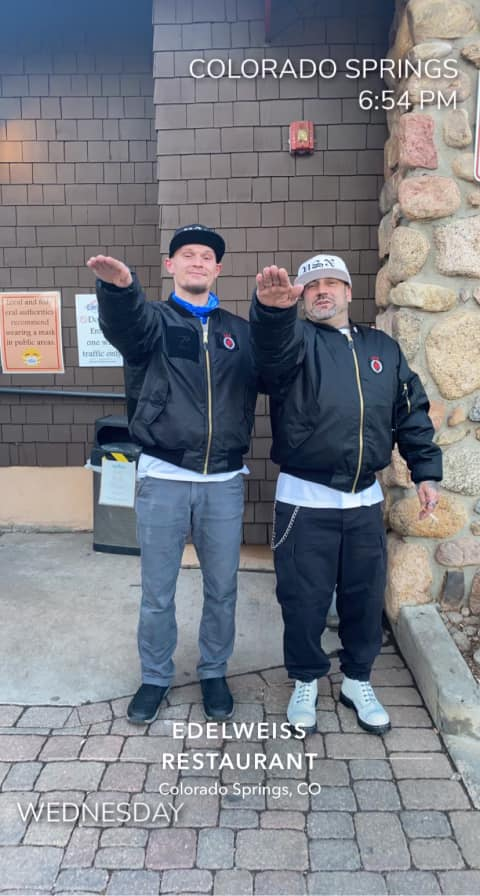 UPDATE:
1/23/2020
Lucas James Martin is now prospecting for John Kopko's United Skinhead Nation. John Kopko marched at the Charlottesville Nazi rally as a Confederate Hammerskin, but has since started USN.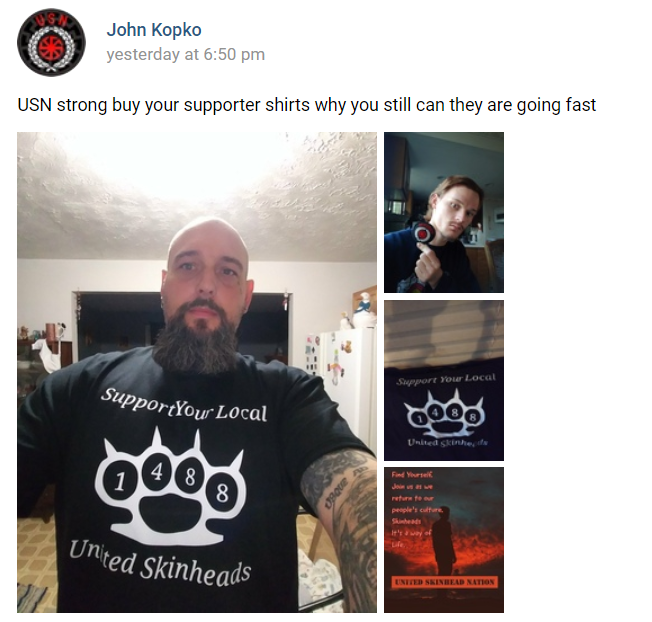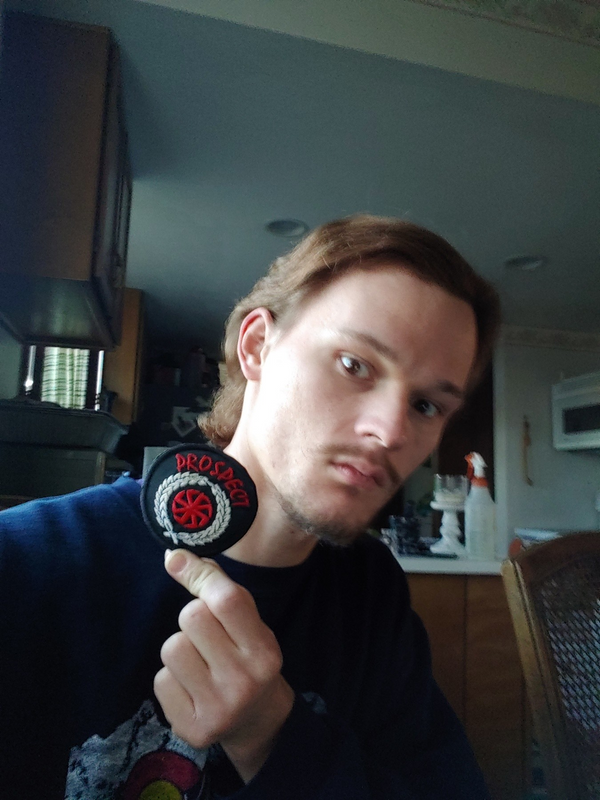 Lucas James Martin
Lucas uses the online pseudonym "Dmitriju Andrusjaku." Here's how we know: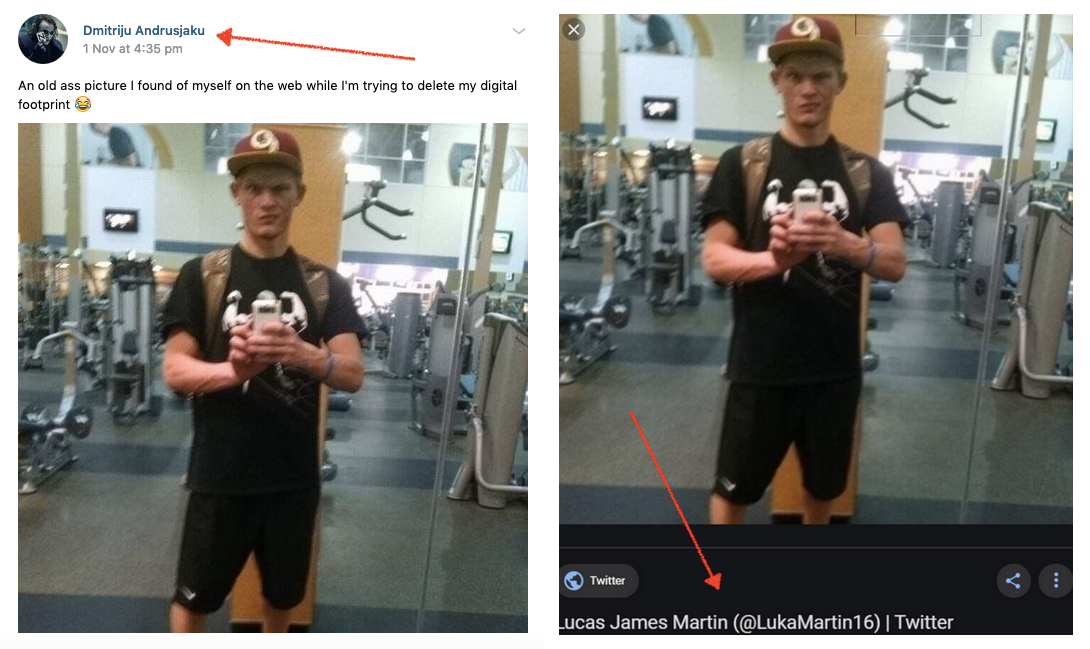 He posts a lot of awful shit. Here's a small sample for your enjoyment.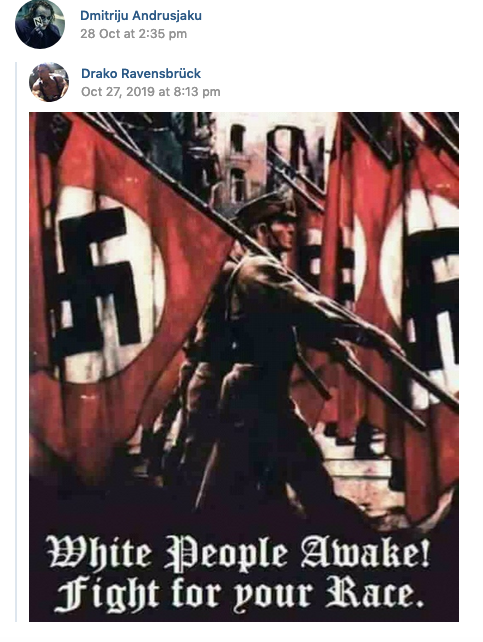 Mile High Comics Protests
Remember that rapidly multiplying group of Nazi scumbags who have been flocking to Denver's Mile High Comics every month to harass the attendees of their all-ages drag shows? Lucas is one of them. Here he is hanging out with his fascist friends at the July protest: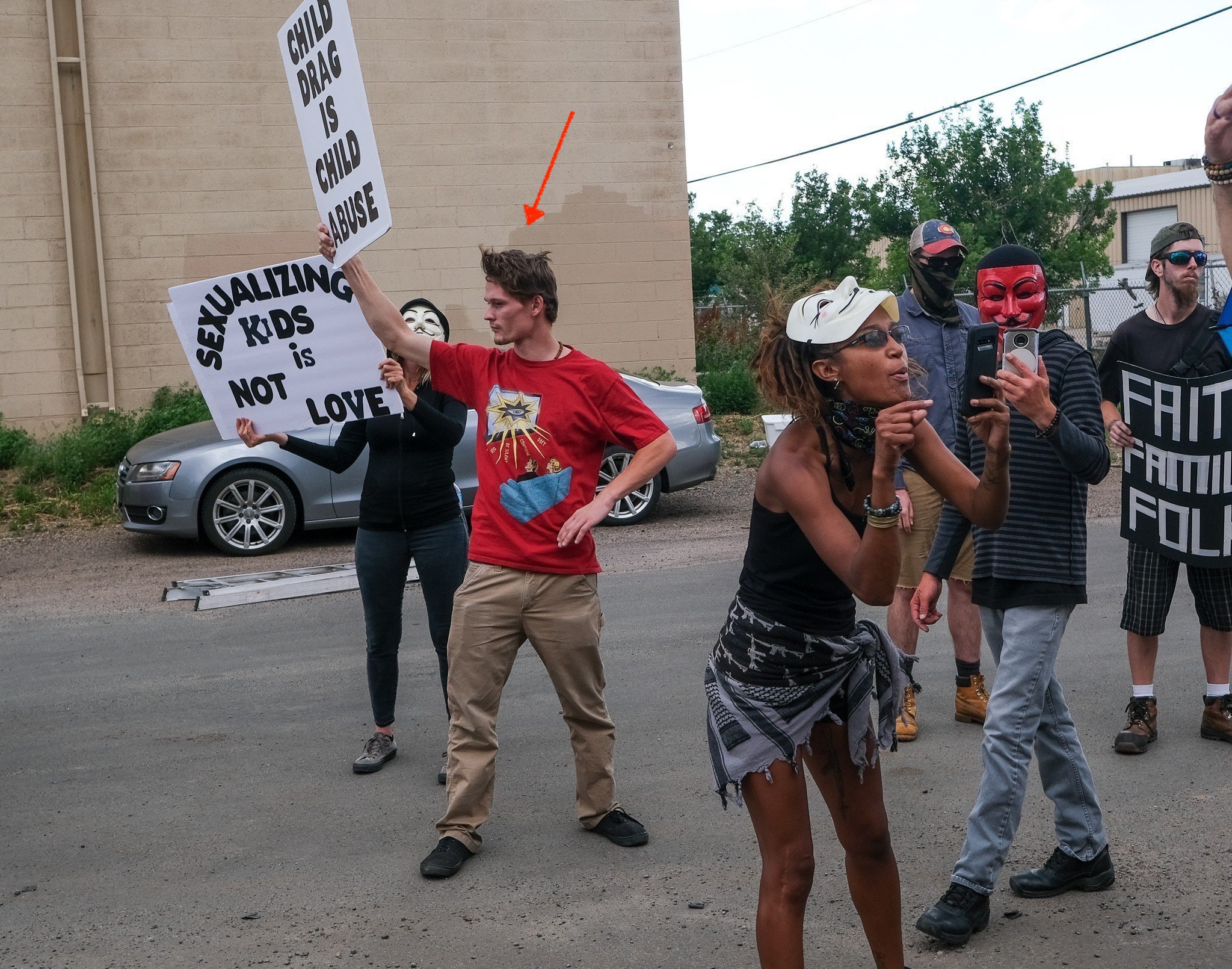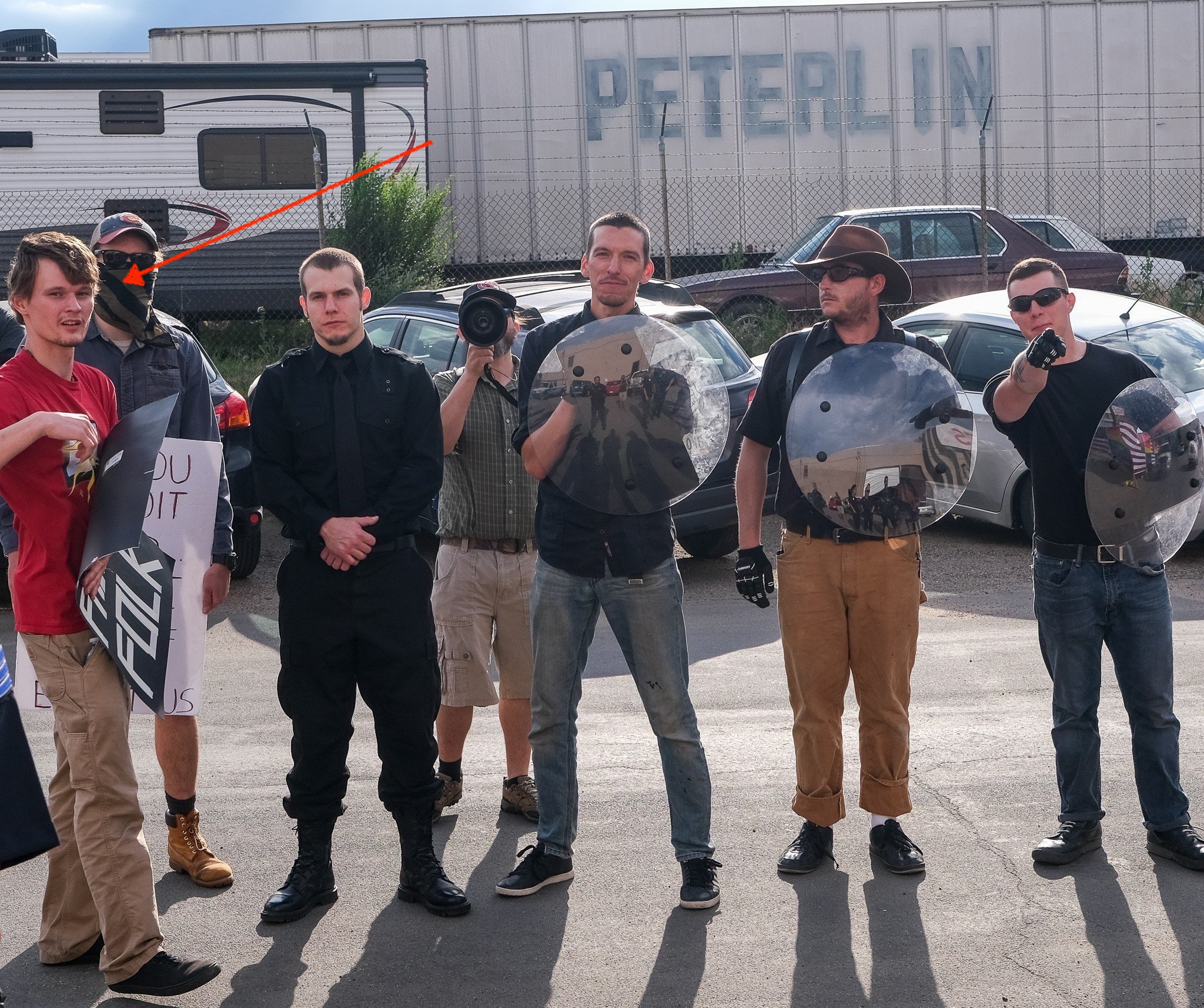 And here he is recovering from a well-deserved pepper spraying at the August protest. Notice the Nazi shit he's wearing. Very cool!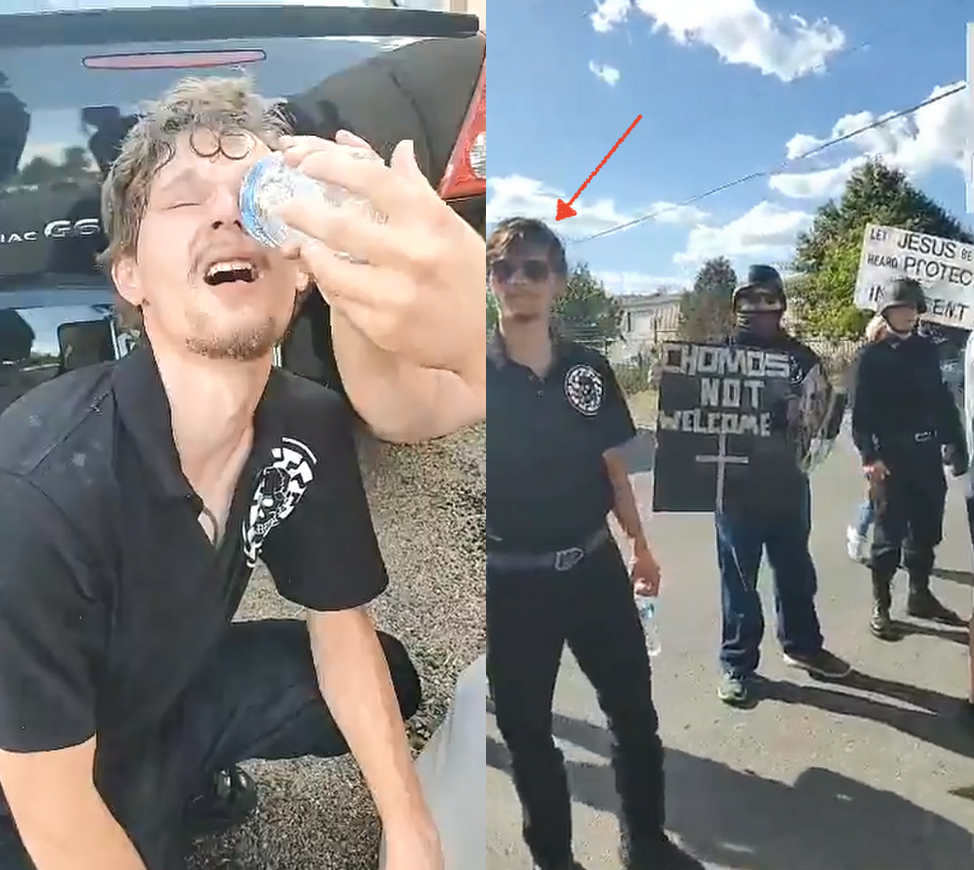 Lucas shared the following meme to his VK page a few months ago. Its creator, his friend Steve, also wrote a terrible rap song about burning down Mile High and killing the people inside. This concerns us a lot.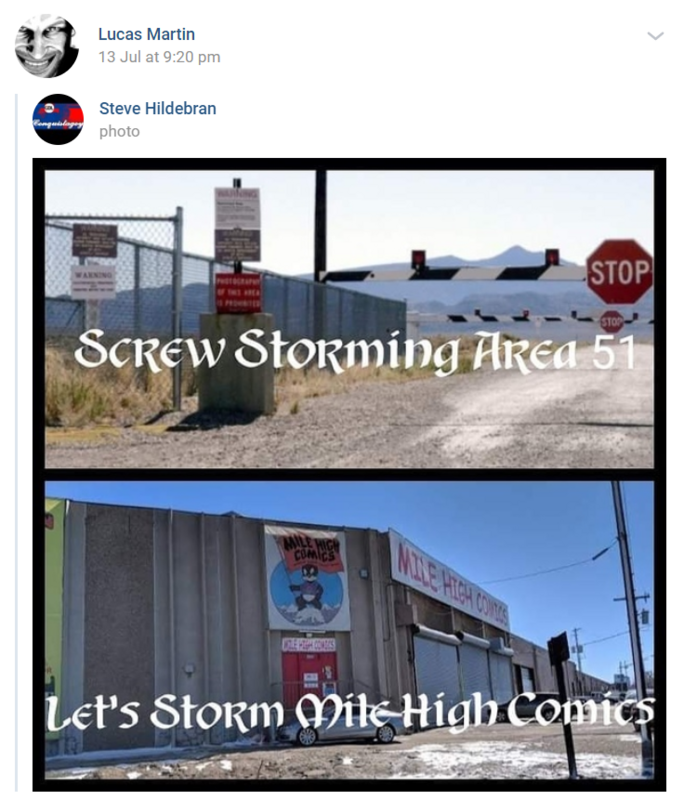 Colorado Proud Boys showed up to protect these Nazis at the following month's protest.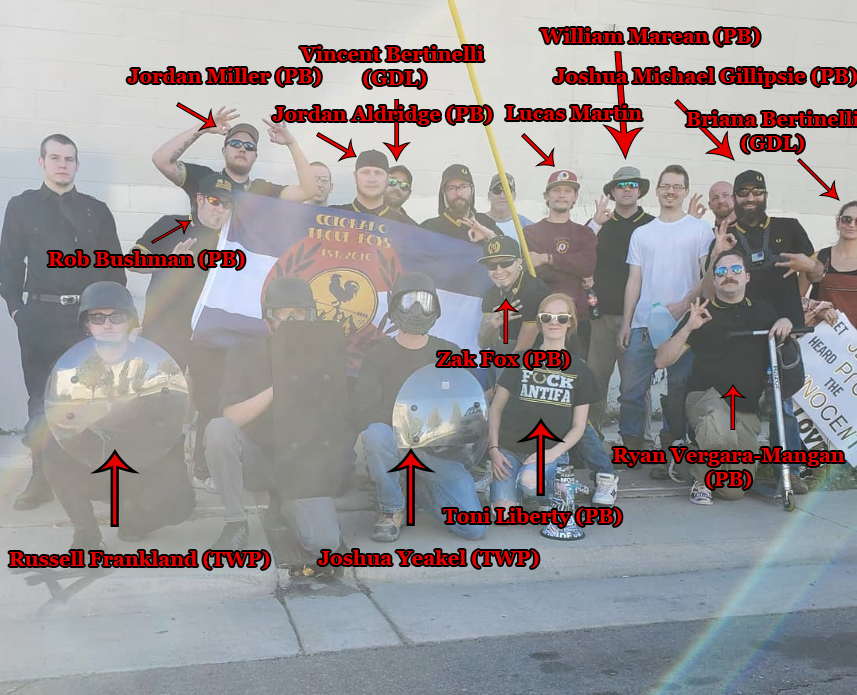 "Name the Nose" Tour
Harassing innocent civilians for attending LGBTQIA-friendly events and accusing them indiscriminately of pedophilia and child abuse is not the only brave form of activism he partakes in in his free time. Last weekend, he joined his vile, Jew-hating comrades from the Goyim Defense League on their "Name the Nose" tour of Colorado. Led by "Handsome Truth" (a.k.a. Jon Minadeo), who flew here all the way from California, this pathetic handful of Nazis dressed up as Jews, drove around the Front Range in an Enterprise rental van covered in anti-Semitic graffiti (see below), handed out flyers claiming that the Holocaust was a hoax, and shouted at passersby apologizing for 9/11, the slave trade, and killing Jesus, atrocities they believe to have been committed by Jews [citations needed].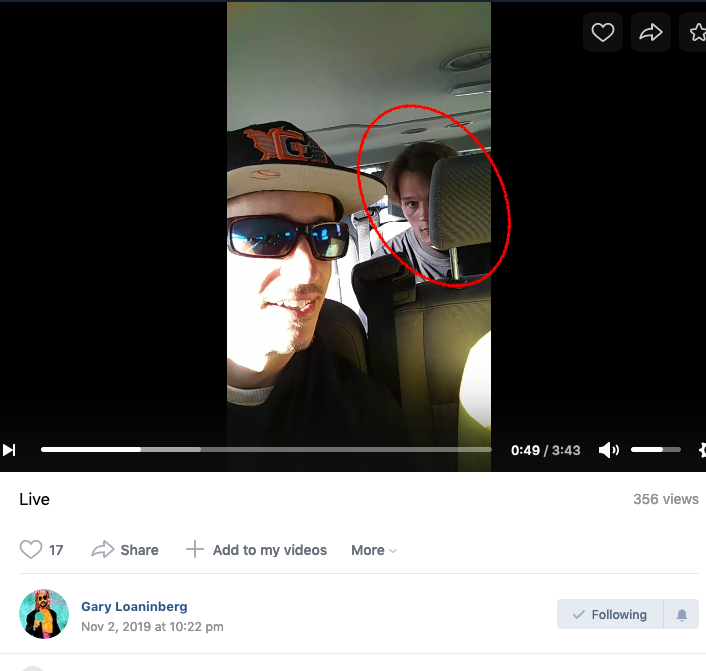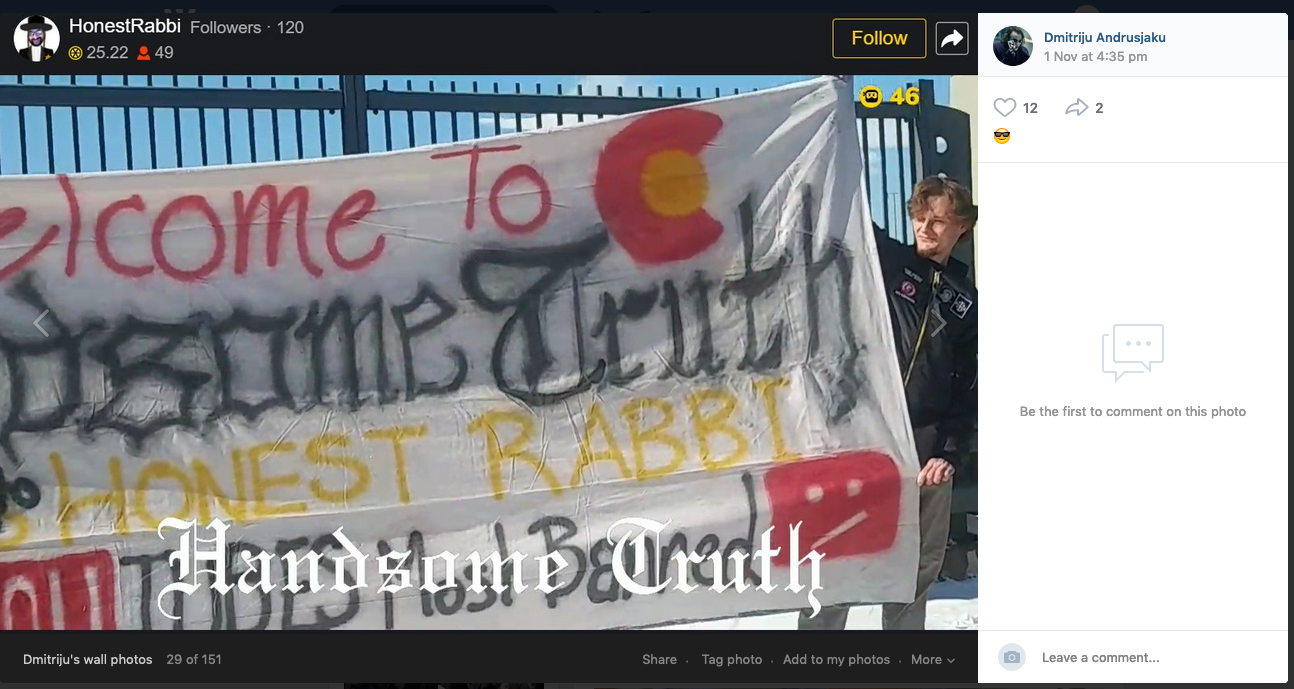 But first, Lucas had the honor of presenting this beautiful welcome banner to his terrible friend. Welcome to Colorado, Jon!
Unfortunately, this warm welcome was dampened by the fact that our boys woke up the following morning to discover that their tires had been slashed and their car vandalized. Sad!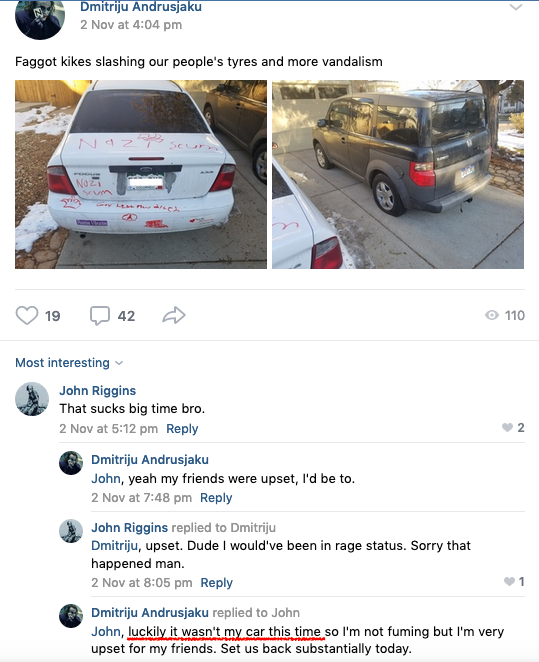 When he says it wasn't his car "this time," he's referring to a similar incident that went down at one of the Mile High protests this summer. Too bad for this Caleb guy, whoever he is…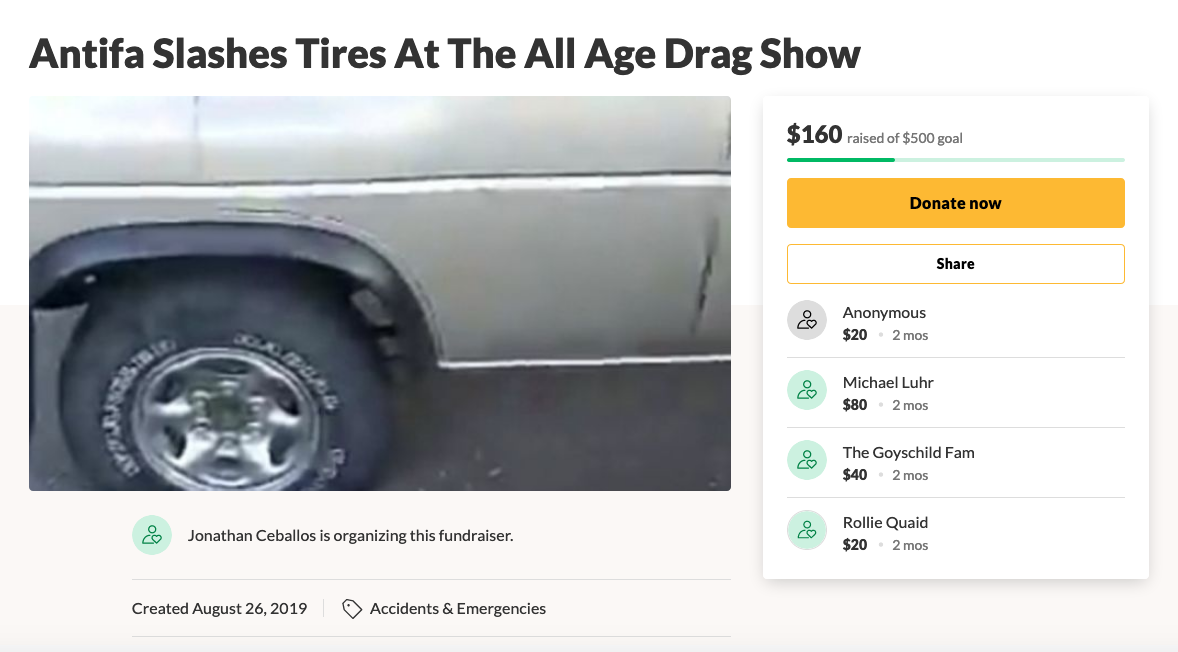 Wait a minute…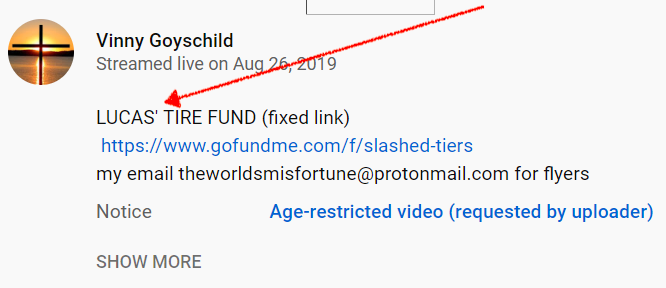 That's right, folks. Lucas' tires were slashed and his Nazi friend, in an effort to help him out, made his real name public. Whoops. (As a side note, this tire stuff seems to be a recurring problem for these guys. Have they tried not being fascists? That might solve it. Just a hunch.)
Despite this setback, the boys seemed to enjoy their special hate crime rendezvous. It was especially memorable for Lucas, who wrote, "I will never forget this last weekend. Great group of goys here," when he shared the following image to his VK page. Ew.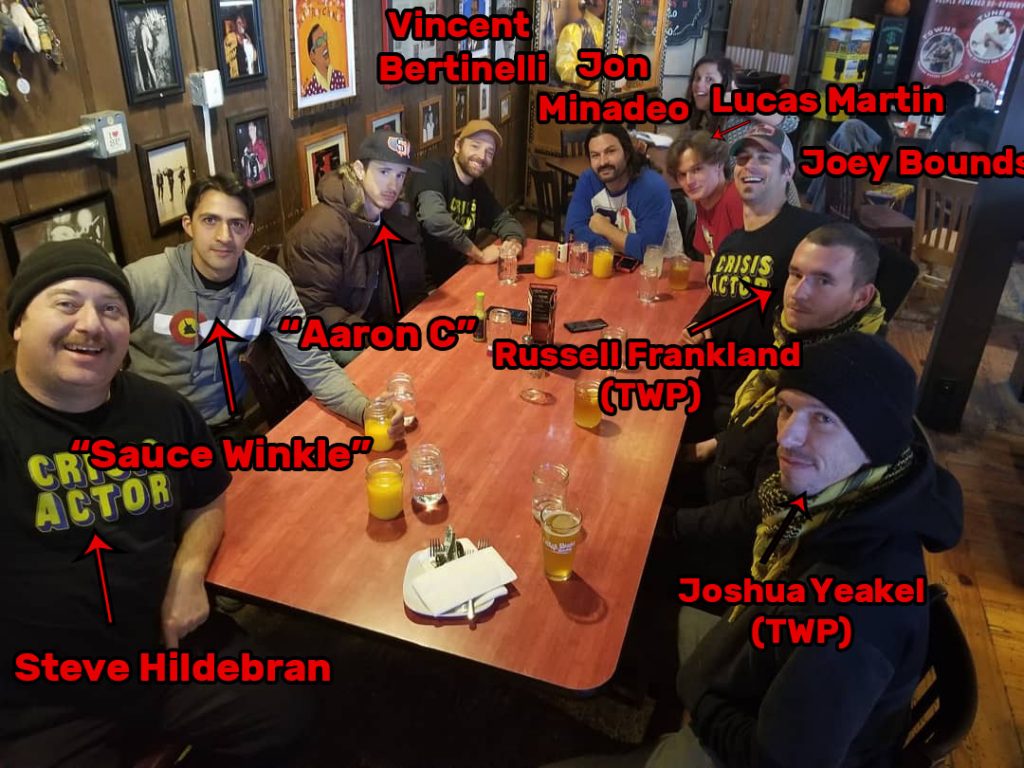 If it quacks like a Nazi…
While it can be hard to take Lucas and his ilk seriously with their bizarre conspiracy theories (his friends believe the earth is flat ffs), it is important to note that he has repeatedly demonstrated his willingness to mobilize in opposition to diversity and equality. He poses a real threat to our marginalized neighbors here in Colorado, especially the Jewish and LGBTQ+ communities.
Here he is spewing more anti-Semitic hate speech and admitting to harassing a gun store owner in Fort Collins as part of his "Name the Nose" adventure.
His views are abhorrent, but not surprising. He hates immigrants, refugees, people of color and leftists, and he seems to be preparing to arm himself against them.
What is slightly more shocking is his love for Adolf Hitler. Lucas has also shared his support for Atomwaffen Division, Combat 18, two violent neo-Nazi terrorist groups.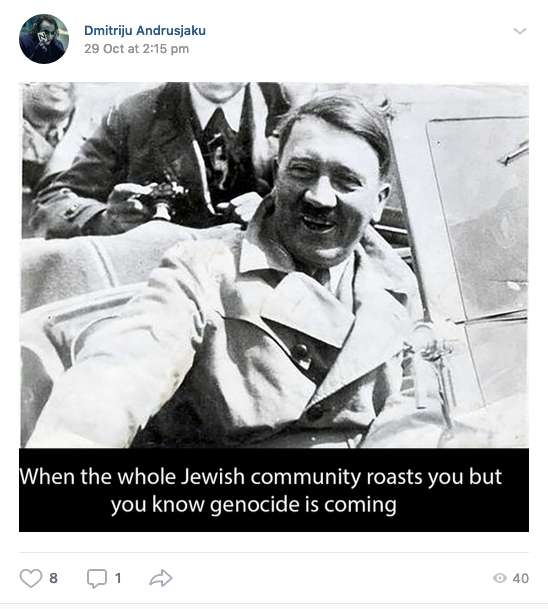 Lucas has also shared the front page of the eco-fascist mass shooter Brendan Tarrant's manifesto, who live streamed himself murdering 49 people and injuring 51 at a mosque in Christchurch, New Zealand.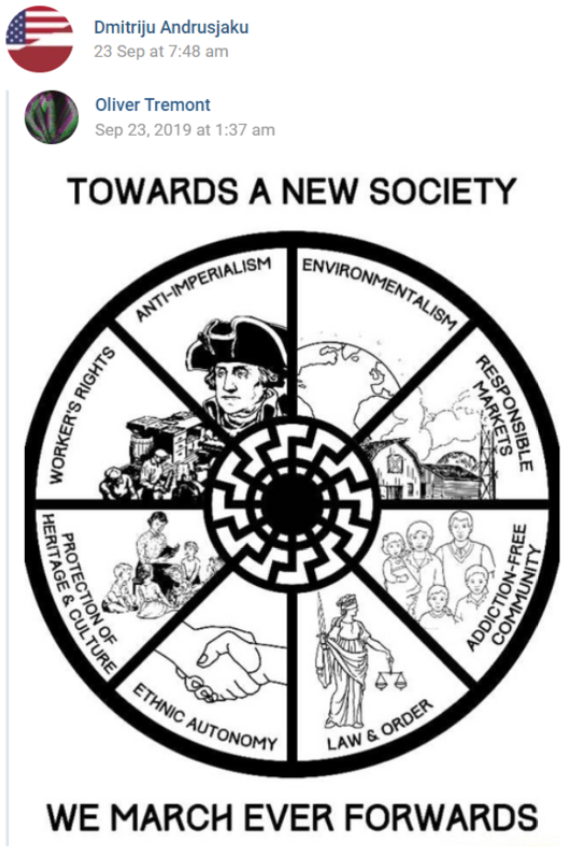 As if we needed any more confirmation, here is Lucas James Martin proudly declaring himself a Nazi.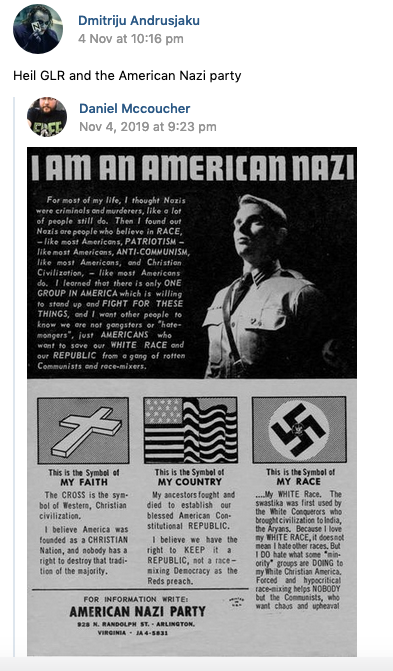 All of this makes the following post a bit hard to understand. Lucas, are you a proud member of a growing Nazi movement, or is this movement the invention of hysterical leftists looking for excuses to exert power by suppressing free speech? Do you admire Hitler for his hatred and genocide of Jews, or was the Holocaust a hoax? You can't have it both ways.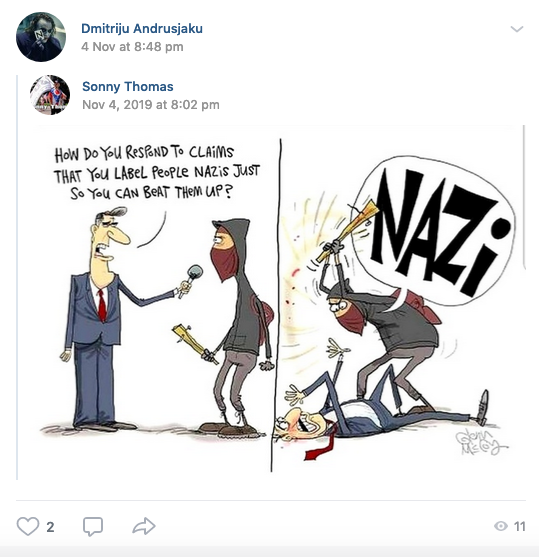 Lucas and his buddies seem to consider themselves courageous free speech warriors, willing to expose difficult truths that most can't accept. Yet, in an effort to conceal their extremism, they continue to gaslight the public and each other into believing that all who oppose them are crazy and misguided.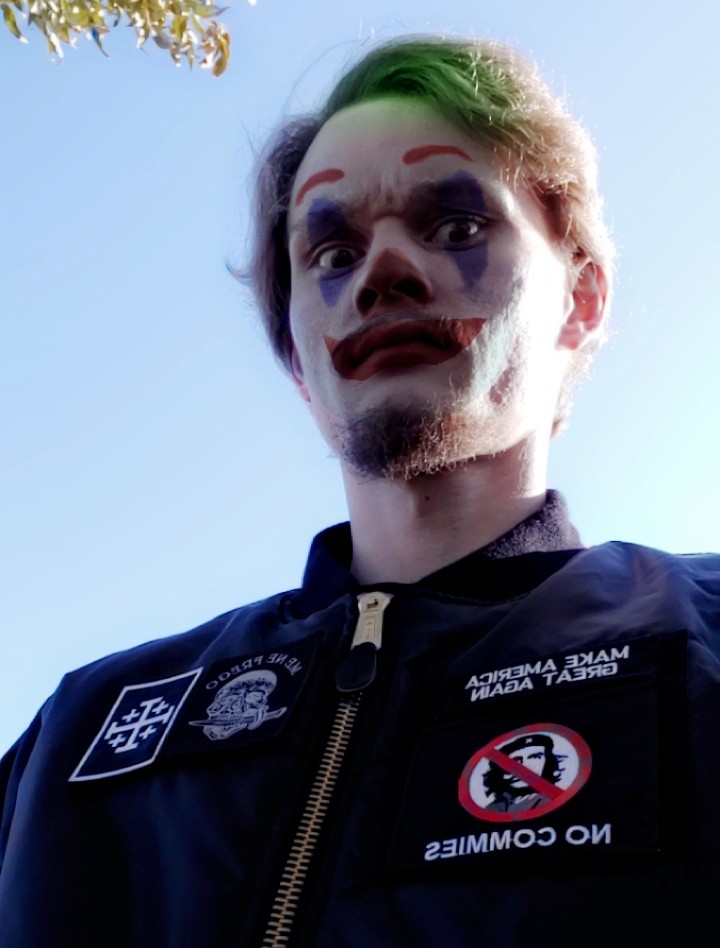 But we see them. We know who they are and what they want. We know that when they aren't busy attempting to cast their detractors as delusional, when they aren't feigning outrage over injustices like imaginary child abuse and war to make their views seem morally justified, they are reveling in the promise of widespread hatred and violence against the most vulnerable members of our society.
Lucas James Martin is a fucking Nazi.
Action Items
Lucas works at the King Soopers at 8200 S Holly St, Centennial CO.
You can contact the store here and ask why they are employing a neo-Nazi:
bryan.burkey@stores.kingsoopers.com
susan.george@kingsoopers.com
Any additional information about Lucas and the GDL (or any other fash), can be sent to us at cospringsantifa@protonmail.com
Additional Nazi Content