Chad Kovacs is a white nationalist in the Denver area who a source of ours met on the white supremacist matchmaking service Nationalist Connect (NatConnect). According to his LinkedIn (Archive), Chad works as a Lyft driver. He is also likely employed by Effectv (formerly Comcast Spotlight) as a Business Operations Specialist. Chad worked with the Colorado GOP as a campaign assistant on the 2018 Walker Stapleton gubernatorial race and had direct knowledge of Samuel Cordova's attack on a drag queen story hour in Denver.
Additional information about Chad Kovacs has been published here.
UPDATE:
1/27/2020
An EffecTV rep has stated Chad Kovacs is not currently employed by the company. Still no word from Lyft.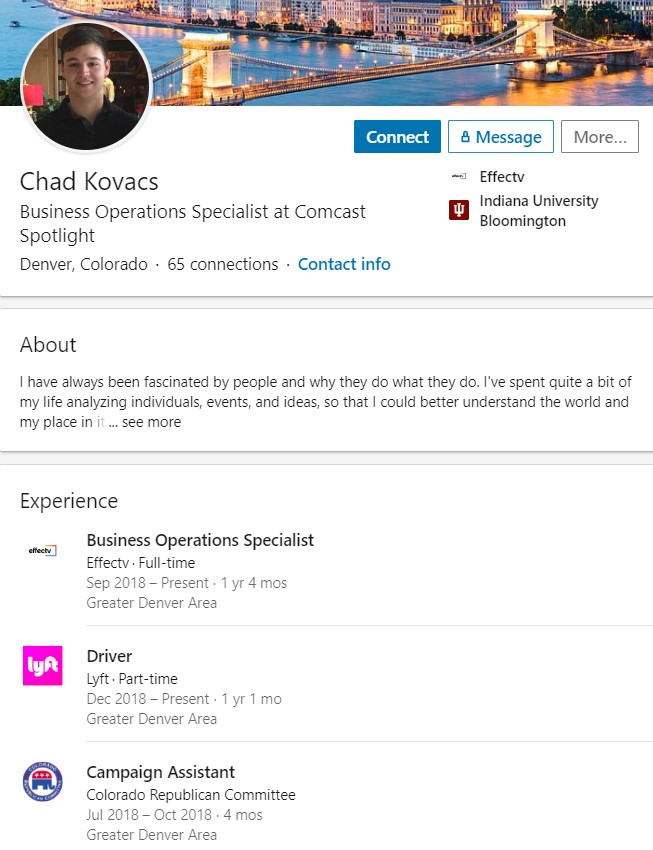 NatConnect is run by white nationalist YouTuber Way Of The World as a means to get these fine, upstanding Nazis out of their basement and into the view of antifa other Nazis.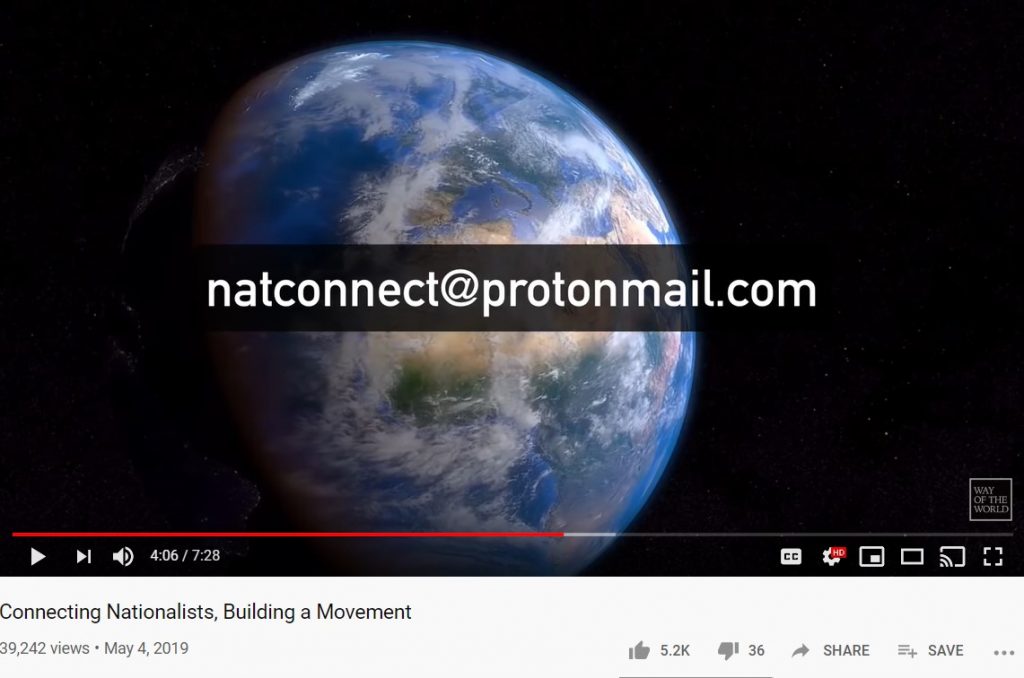 Chad submitted his information to the NatConnect ProtonMail and was promptly matched with our source. Chad setup a Threema chat and lead the coordination of this small band of fascists and trying to grow the group with real-life meetups.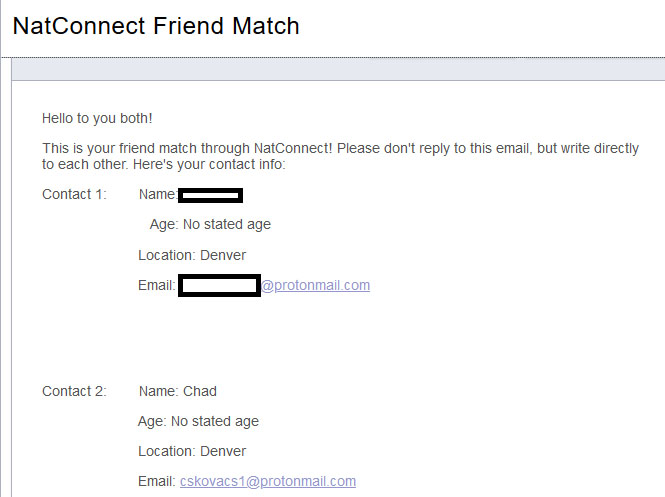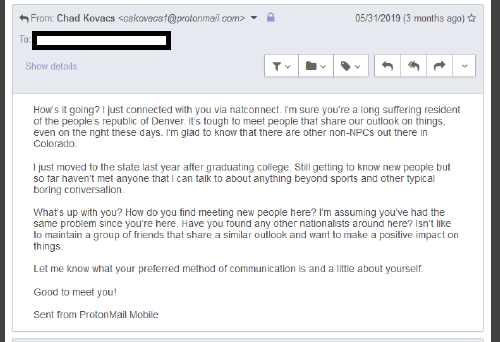 Once inside the encrypted chat, Chad was a bit less crypto…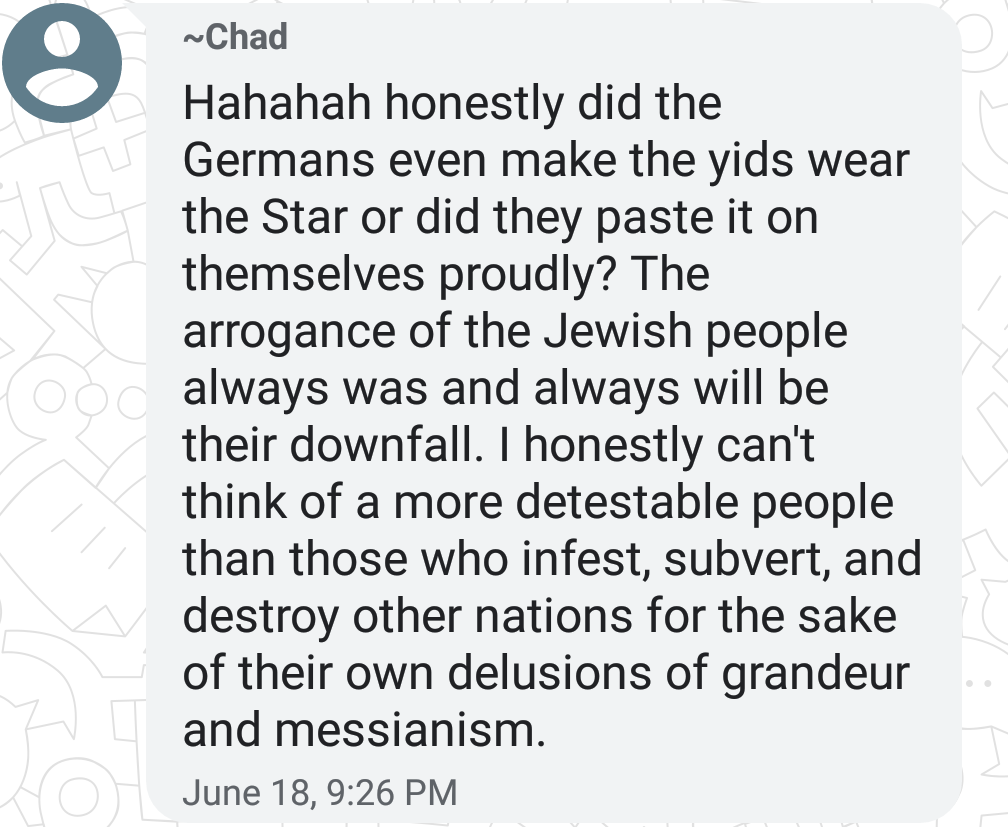 Chad's friend Sam
Chad is also no fan of gay people and claims he avoids serving them as a Lyft driver. He even goes so far as to say Denver "needs a good freikorps patrol," likely a reference to the fascist gang in Ukraine who recently hunted down queer youth after Kharkiv's first ever pride march. Freikorps were originally German nationalist paramilitaries who paved the way for the rise of the Nazi party between WW1 and WW2 in Germany.
Samuel Cordova, the Patriot Front member who covered downtown Denver with the group's stickers and was arrested for disrupting a drag event with spray paint, agrees.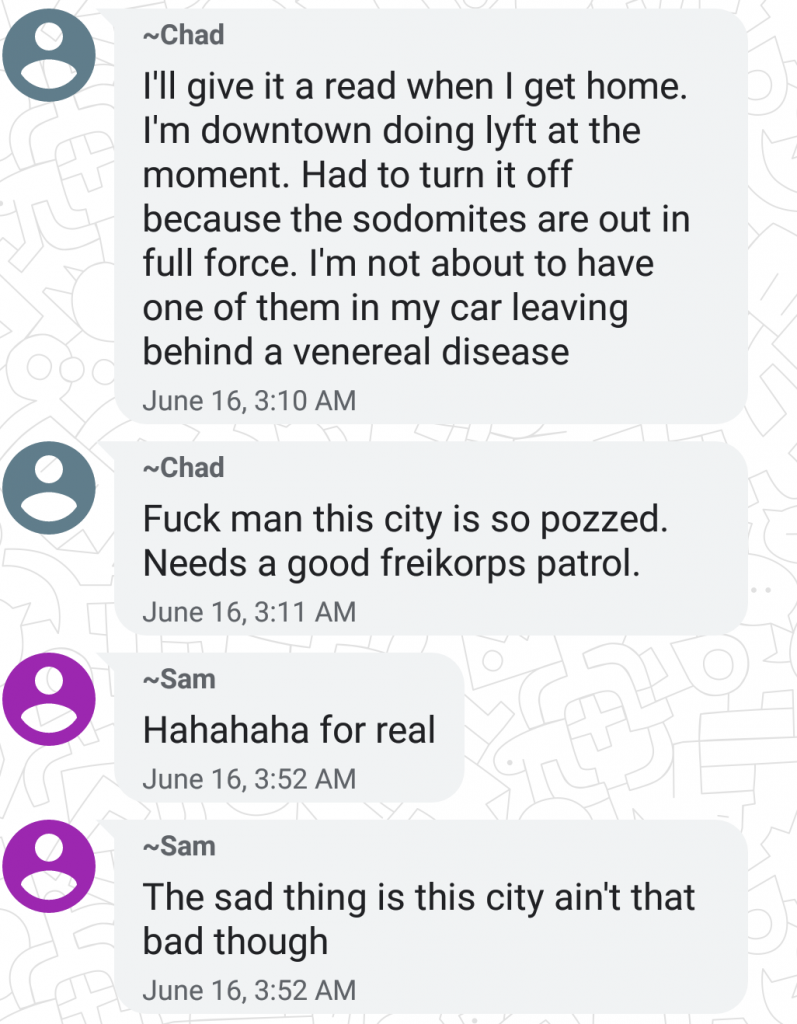 Here's Chad and Samuel Cordova wishing for a future reckoning against "fags and hedonists."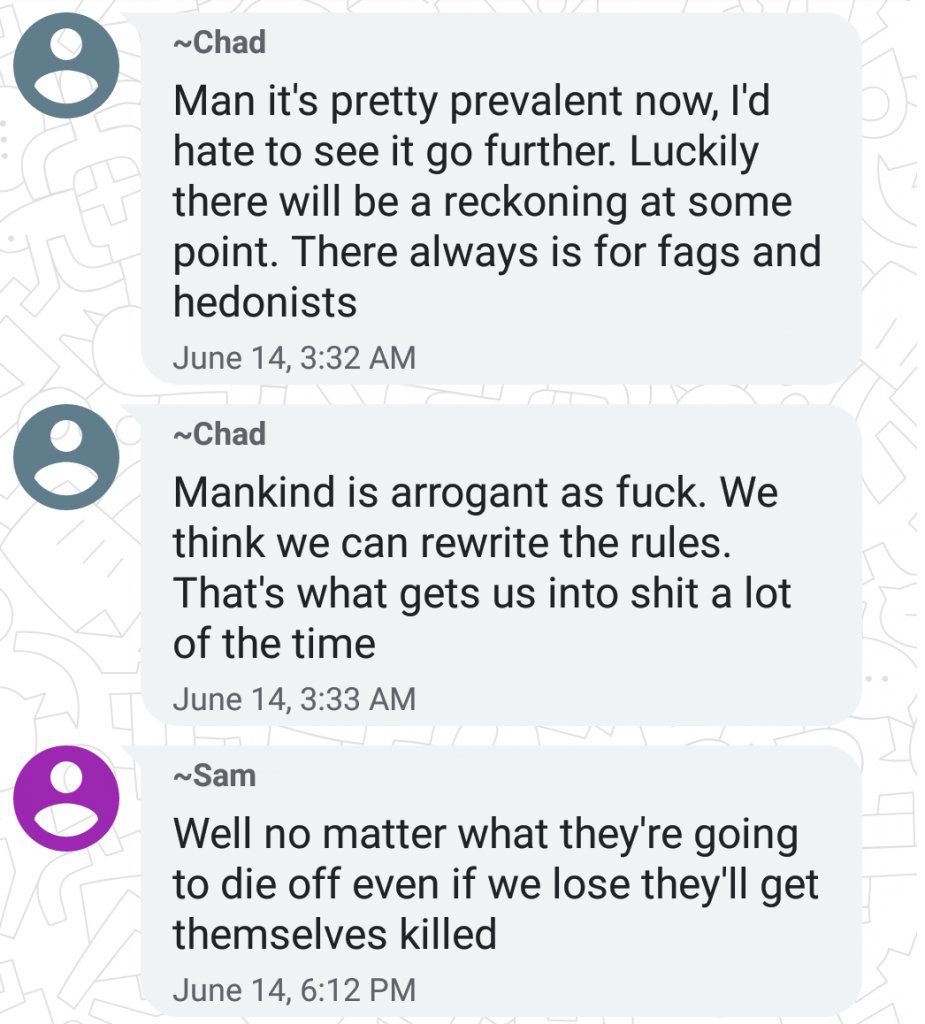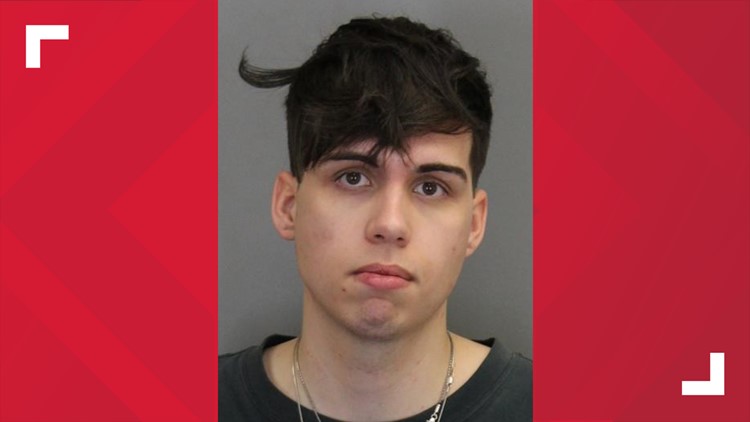 Sam planned his attack on Hope Tank with Chad in this very chat.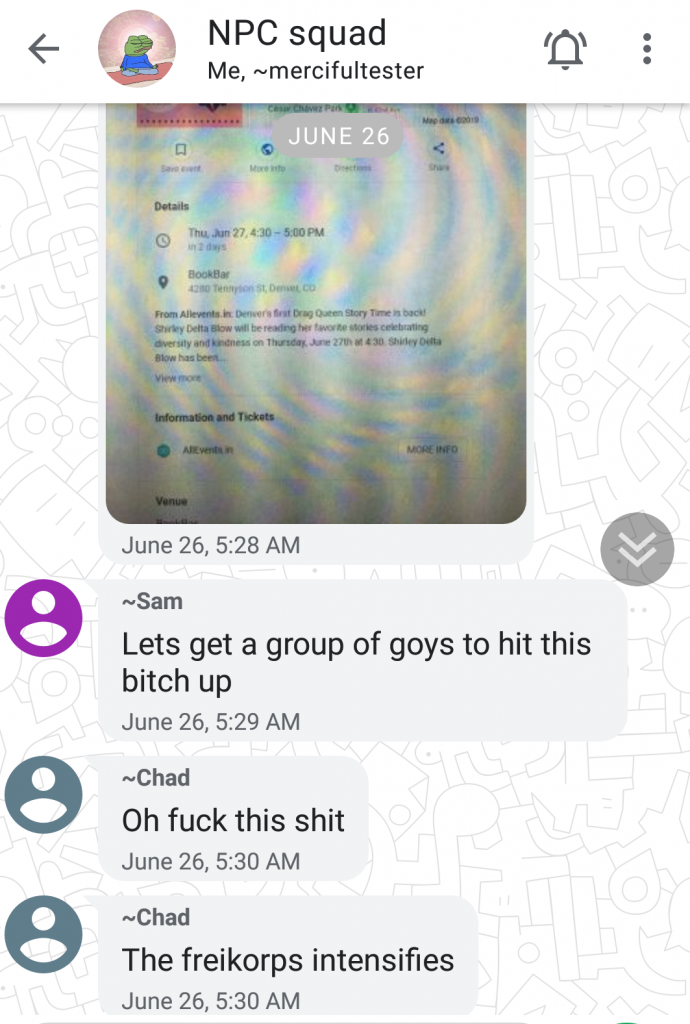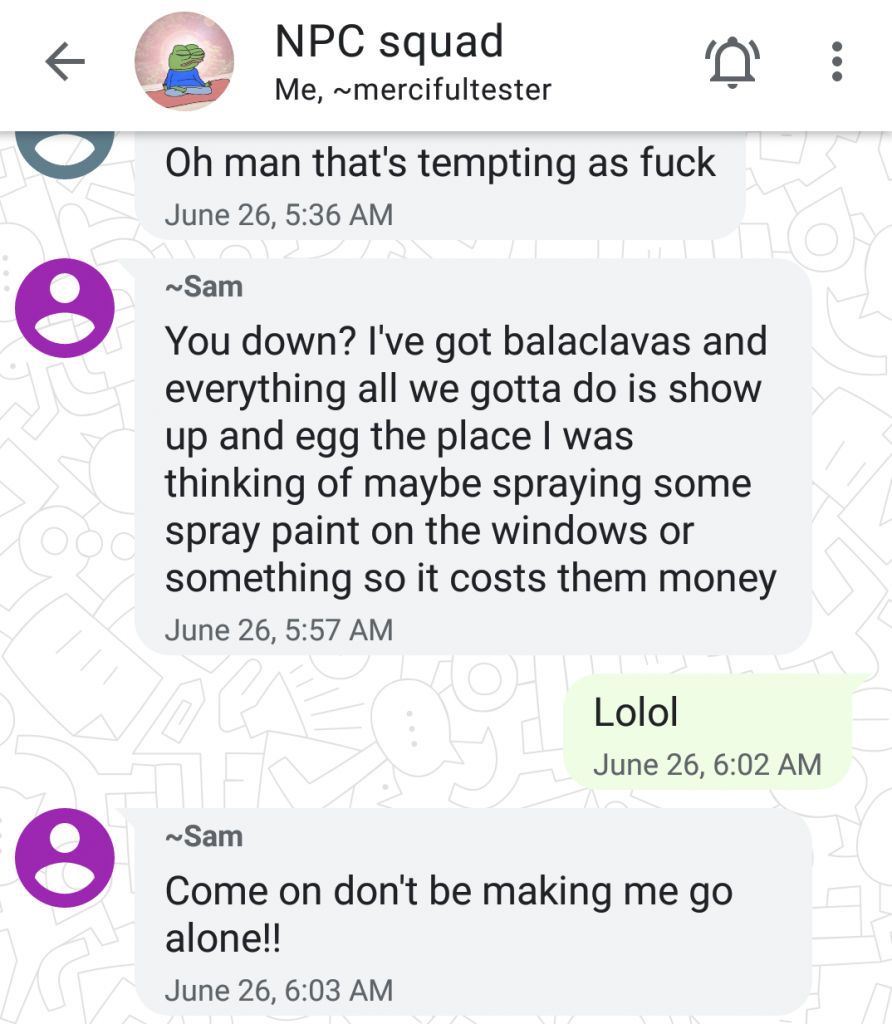 Alas, Sam went alone.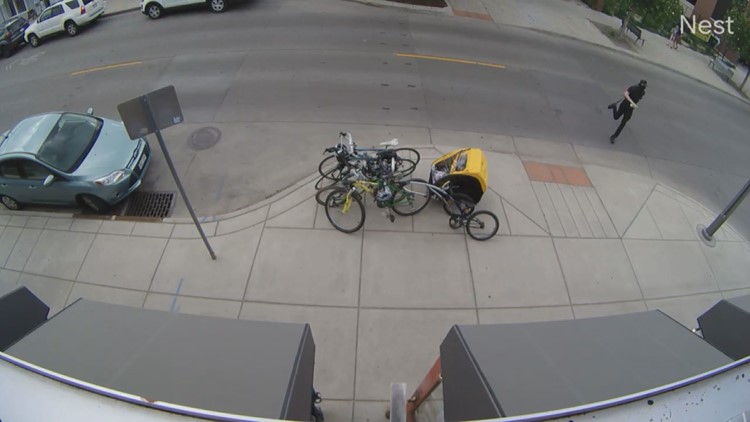 Chad wanted to help with this attack, but unfortunately had other obligations, so he cheered Sam on from the sidelines.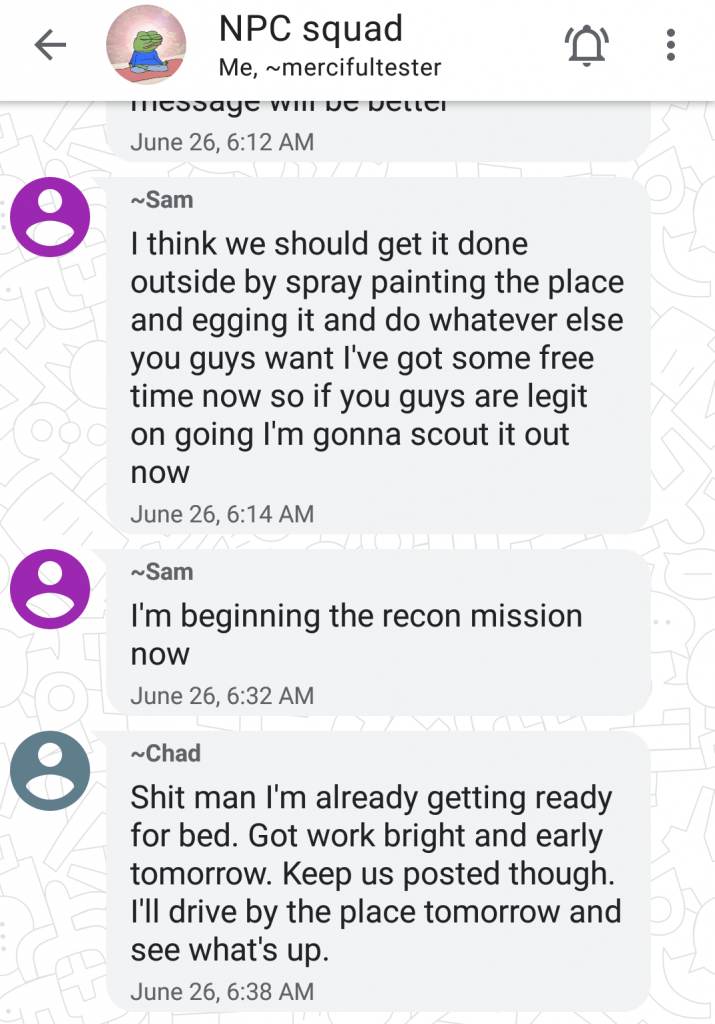 Chad's lucky he didn't go, or he probably would have wound up with his face on the news just like Sam.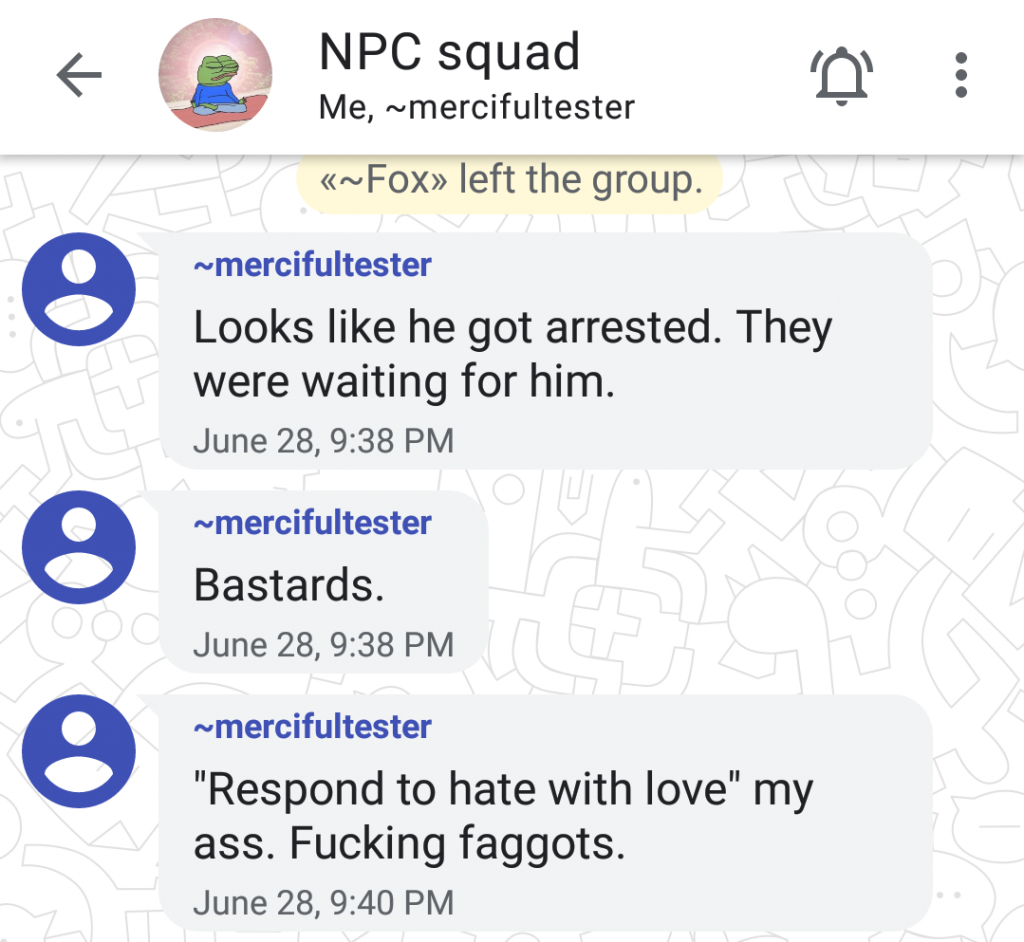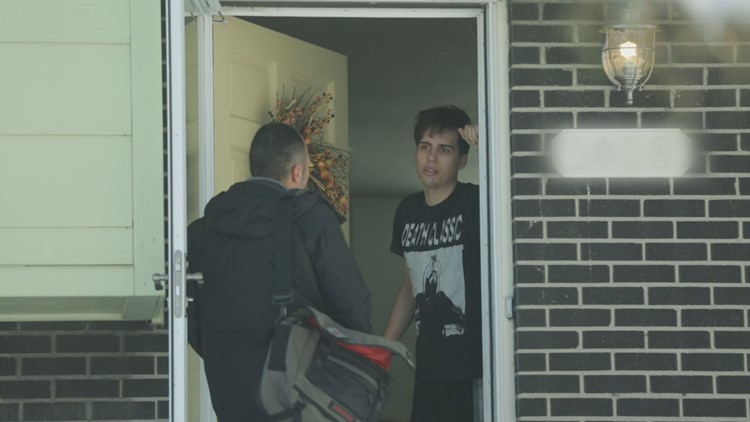 Colorado GOP's Fascist ties
Chad went to the June 19th Colorado GOP Trump Re-election Kickoff Watch Party where he planned on "carpet bombing those f*gs with red pills."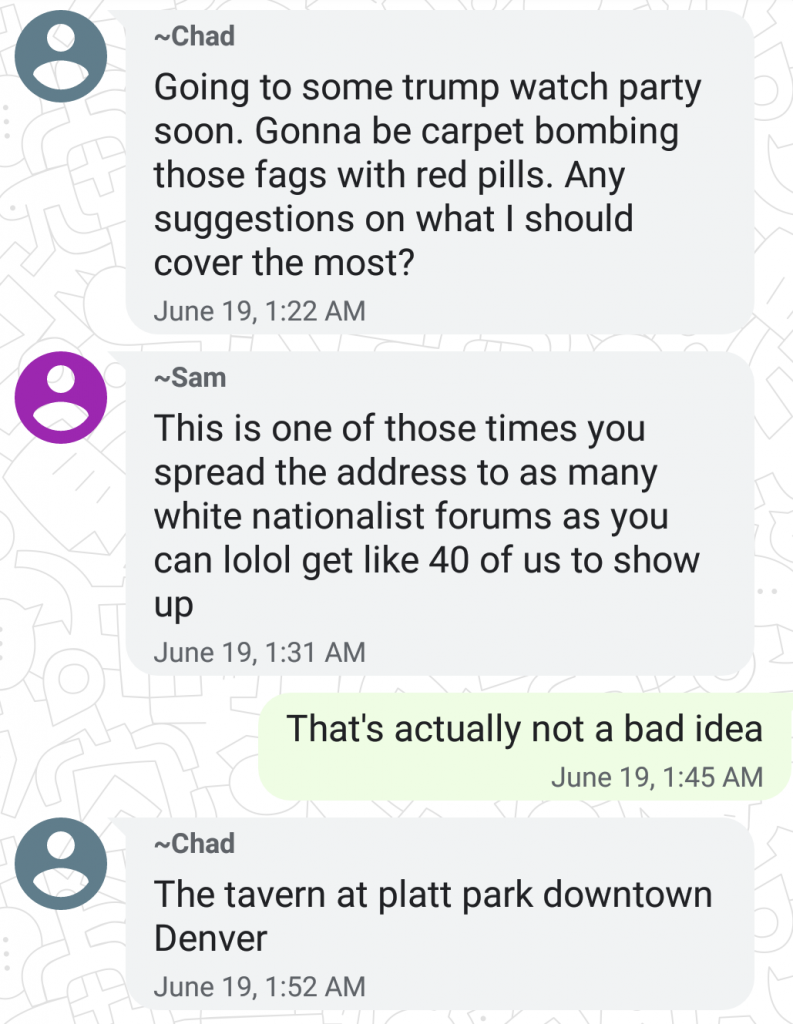 That a white nationalist worked for Walker Stapleton's campaign should come as no surprise. In September, a GOP Colorado State Representative helped organize a rally for Louie Huey and the Colorado Proud Boys that was attended by "Unite the Right" participant Shane Reeves. Fortunately, the community stood up against these fascists.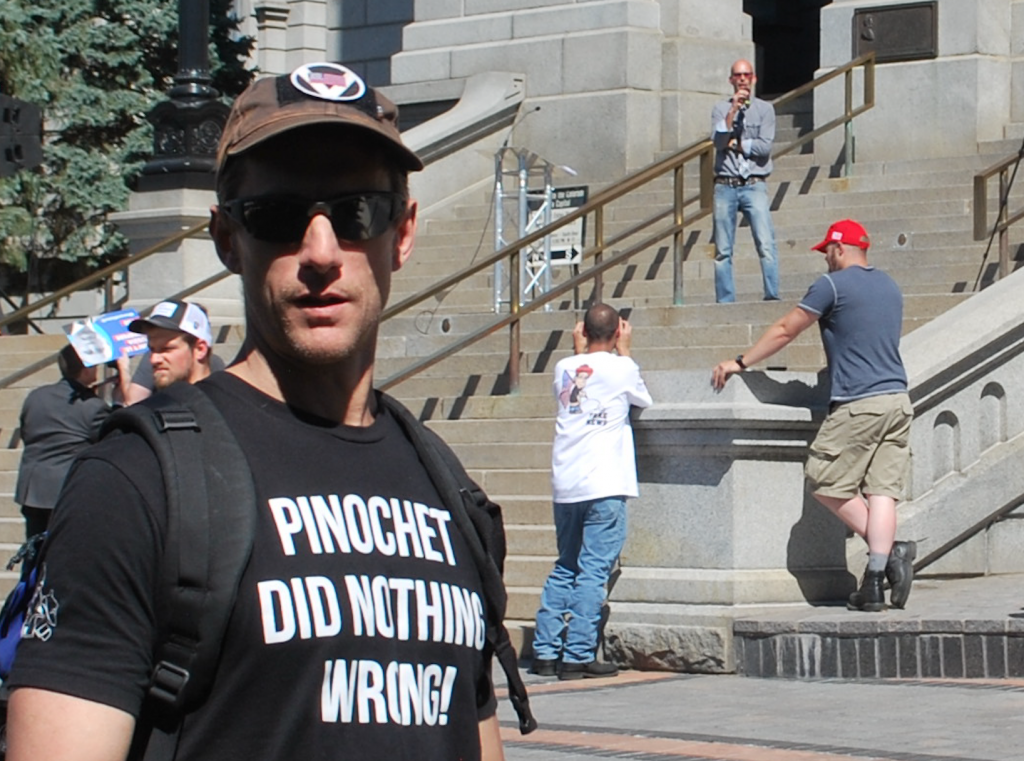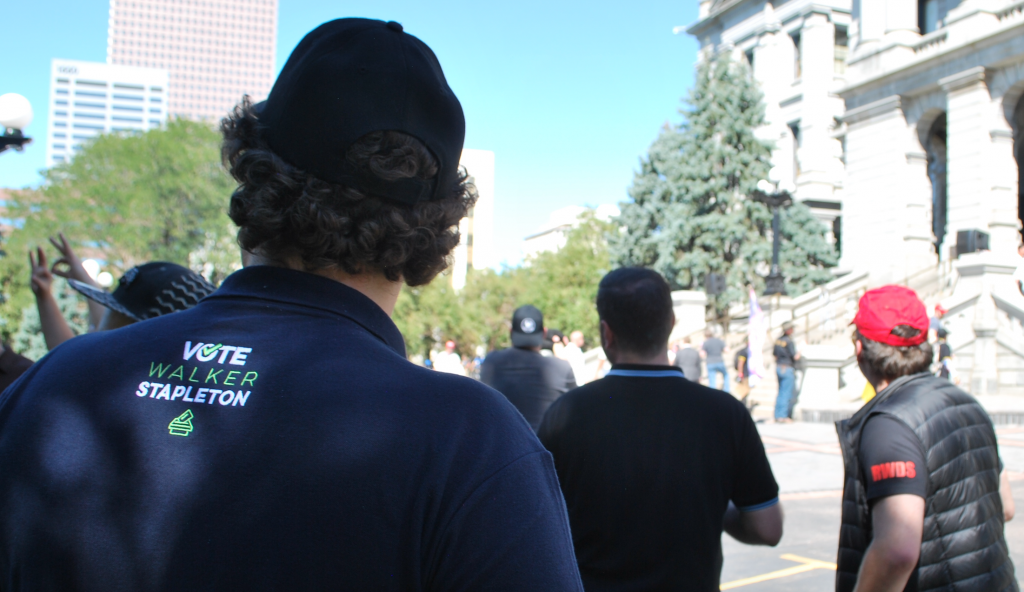 In 2018, the Colorado GOP ran white supremacist David Reid Ross of Boulder County for the House of Representatives. Among other things, Ross stated on his blog that he doesn't believe black people should be allowed to vote. After David's hate speech was exposed by Westword, he was hastily disavowed and dropped from the ticket.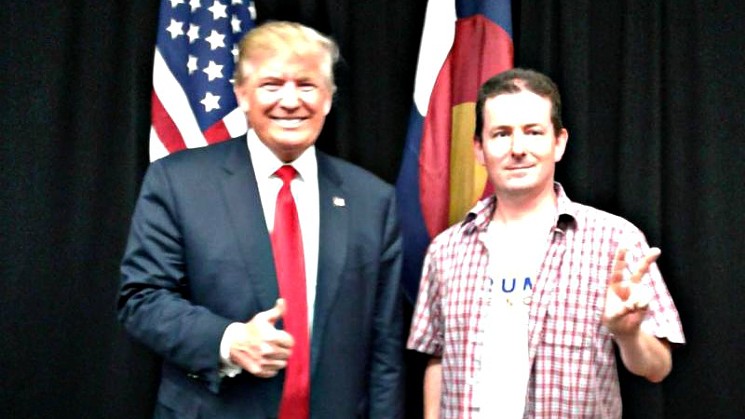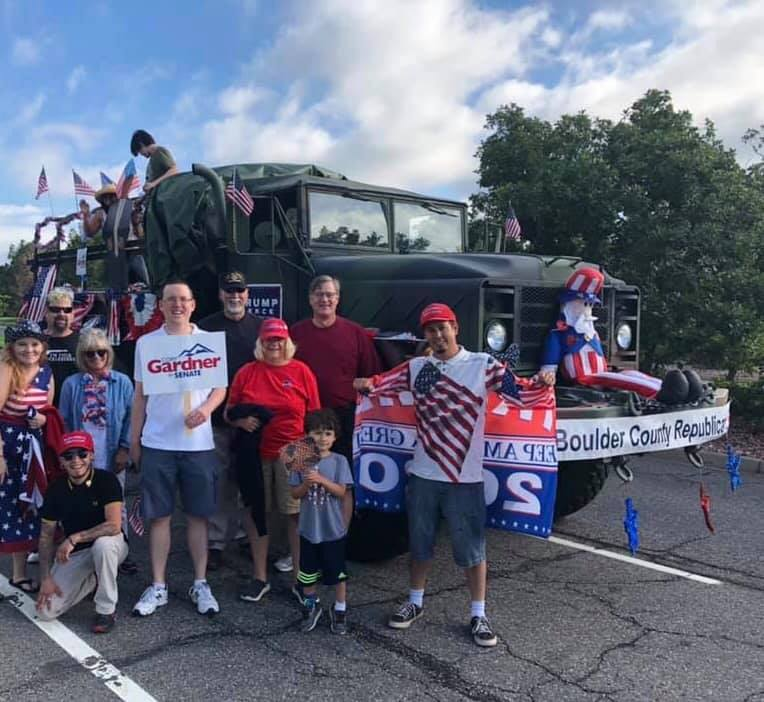 And of course, we can't go without addressing the legacy of white supremacy in Walker Stapleton's own family history. Benjamin Stapleton, Walker's great-grandfather, served as the mayor of Denver for five terms. He was also a high-ranking member of the Ku Klux Klan. Recently, Walker was accused of paying off History Colorado to remove evidence of his family's ties to the white supremacist group.
More of Chad's Bigotry
Chad is, unsurprisingly, a fan of British Prime Minister Boris Johnson's use of racist slurs.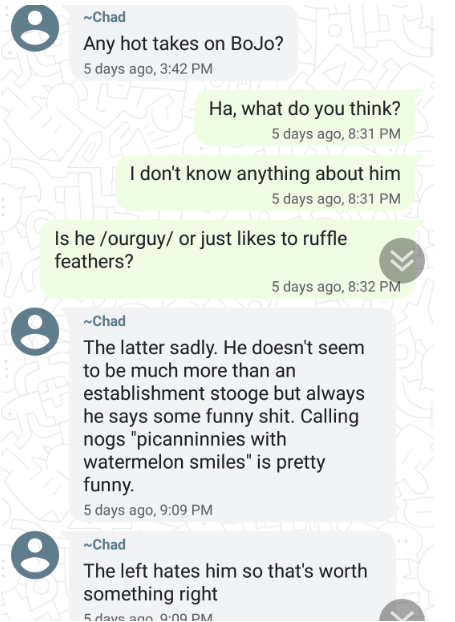 Here's Chad and mercifultester expressing their frustration at the fact that holocaust denial is generally frowned upon.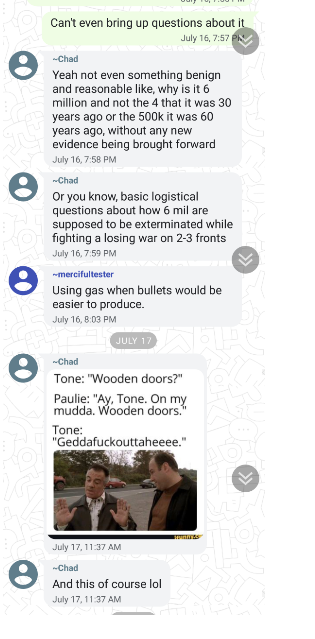 And if you thought it couldn't get any more fashy, here's mercifultester explaining how good the Neo-Nazi novel Day Of The Rope is. If you're unfamiliar with the book, it's about a violent white-supremacist revolution. Chad chimes in to say it's on his reading list.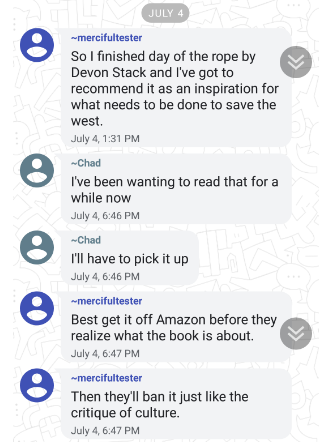 Conclusion & Action Items
The connections between the Colorado GOP and overt fascists and fascist groups are clear as day. Chad is likely one of many (self-aware) white nationalists trying to push the GOP to the right. It's important that we shine a light on these assholes because, as the old saying goes,
You lie down with dogs, you wake up with fleas.

Action Items:
1 – Contact Lyft and ask that they take action against their driver Chad Kovacs who claims he avoids gay riders.